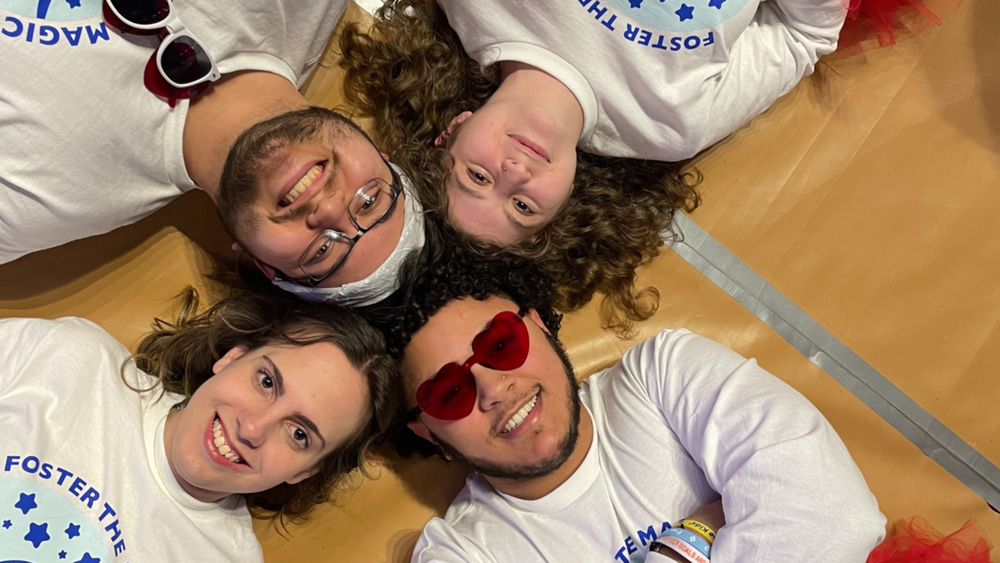 CENTER VALLEY, Pa. — Forty-six hours. Hundreds of refilled water bottles. Thousands of dancers. Millions raised to fight childhood cancer. They are just a few of the numbers from Penn State's 2023 "Foster the Magic" THON weekend, held on Feb. 17-19. In total, the annual two-day dance marathon at Bryce Jordan Center at University Park raised a staggering $15,006,132.46. All proceeds benefit Four Diamonds, a nonprofit organization fighting childhood cancer at Penn State Hershey Children's Hospital. 
Penn State Lehigh Valley (PSU-LV) came in fourth for amount raised among Commonwealth Campuses, with a total of $53,469.76, shattering totals from previous years. PSU-LV was well represented by dancers Hope Green, a first-year student studying broadcast journalism and photography, Trysta Petchonka, a first-year student studying veterinary medicine, Anthony Garcia, a first-year student studying biomedical engineering, and Joshua Huyssen, a senior studying business.  A contingent of PSU-LV students and staff were also on hand to support the dancers and the cause. 
"It was a fantastic experience — a great weekend overall," said Joe Schwartz, transfer admissions counselor and co-advisor for THON at PSU-LV.  We were really excited that we got to send 35 students from campus. I think it helped instill a sense of Penn State pride and passion, and a desire to engage and do more when it comes to THON and the mission of the Four Diamonds fund. The students really had the 'wow factor' — 'Wow, this is something we do at Penn State.' We're hoping to steamroll the enthusiasm into next year."  
There is a selection process for THON dancers. Interested students must apply, then complete an interview with Schwartz, Pam Fleck, assistant director of student affairs and THON co-advisor, and Rhea Kochhar, the 2023 PSU-LV THON chair.
"We typically get a lot of applicants. One year [during COVID], we did THON virtually. Since COVID, some campuses have come back to their pre-COVID levels. It's finally ticking back up [at PSU-LV]. Some of the freshmen didn't know about THON, so this was their first experience," Schwartz said. 
Fleck said the 2023 event was one to remember.
"THON weekend 2023 was an amazing weekend all around! Our four dancers persevered through highs and lows and left with a lifetime memory. For the group of 35 students who accompanied us to support the dancers, many were visiting University Park for the first time. These students embraced all that THON weekend had to offer, showing enthusiasm throughout the weekend and continued encouragement to our dancers," she said.
Fleck also acknowledged the continued generous financial support. "We are especially grateful to our generous alumni and local donors for helping us reach this mark. It is a highlight of our year to be a part of this unique Penn State tradition, the largest student run philanthropy in the world!" 
For more information about THON, visit thon.org/.