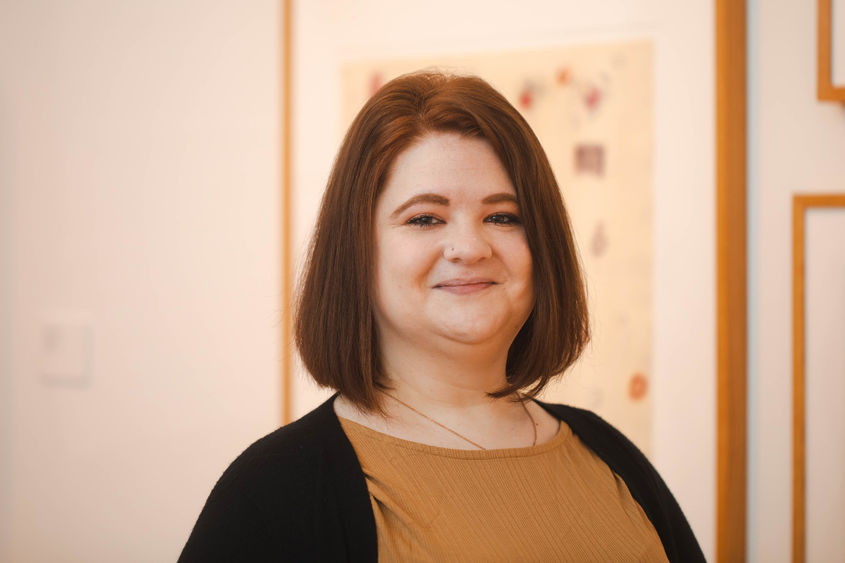 CENTER VALLEY, Pa. — Allyshia Mohr loves art and though not an artist herself, committed to making the creative genre the focal point in her life. It was an intentional choice — but one that came with time.
"I didn't go to college immediately, so I wasn't a traditional student," Mohr said. "Instead, I worked a lot of jobs — and each one was just a little better than the one before it. But it always seemed to reach a point where I thought, 'This isn't a bad job, but I don't see myself doing it for the rest of my life.'"
Eventually, Mohr began researching colleges and discovered a program at Penn State Lehigh Valley that matched her needs. "I could study what I loved at a school within driving distance from my home in Coopersburg, and still work," she said. "It felt like I was meant to be there."
Mohr not only earned her degree in Arts Administration and graduated in December 2022; she was recently selected to serve as student marshal for PSU-LV's spring commencement. It's an honor that includes leading the commencement procession and speaking at the ceremony.
Mohr said she was surprised and humbled by the news, "It means a lot. I had no idea there was a nomination process, and I am honored that someone thought of me."
The distinction is one final extraordinary moment in Mohr's experience at PSU-LV. "[To me] it's validation that I did the best I could during my time there," she said.
True to her objectives, Mohr immersed herself in art-oriented activities at the university. She served as a monitor at the PSU-LV Ronald K. DeLong Art Gallery, assisting with displays, executing events, and guiding visitors. She also volunteered with the Lehigh Valley Arts Council, where she participated in various strategic marketing initiatives to promote the organization and its members.
"I love so many things art," Mohr said. "Especially how it gives you the opportunity to express your feelings in such a known way. There are so many ways to do this [express yourself] and it all comes down to the viewer. It's so cultural — I love everything about it," she said.
As a nontraditional student, Mohr admits it was often challenging to manage her schedule. "It wasn't easy managing everything while working two jobs and taking six classes. It was a balancing act to make that happen. But I made sure that I gave myself time and used whatever was left to see family or have dinner with friends. I was lucky to have such a great support system. Everyone knew and understood that there would be periods where I just couldn't be available," she said.
Currently, Mohr is a Visitor Service and Education Assistant at Lehigh University's art gallery. "It's seriously fun," she said. "They have such a great program and do so much for the community. It's been awesome." Mohr hopes to stay and grow professionally at the Gallery.
Looking back on her own experience at PSU-LV, Mohr offers some words of wisdom to the next class of graduates: "Anything is possible if you are willing to work for it. I am proof of that. Just apply yourself."