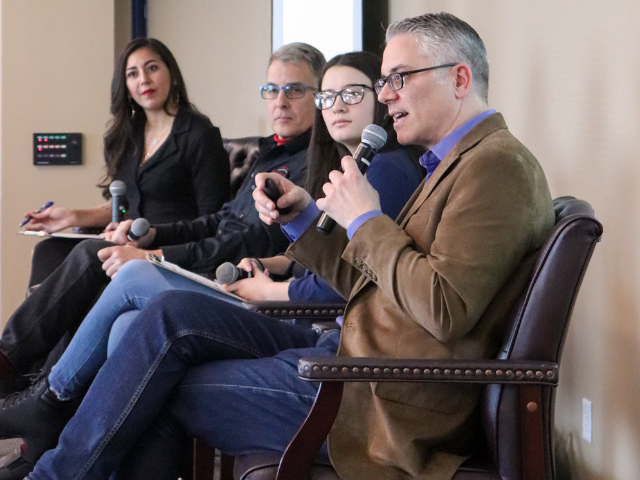 CENTER VALLEY, Pa. — Turning a passion for vintage cars into a unique business was the focus of the recent LaunchBox Ladies Speaker Series featuring three panelists who offered perspective on the automotive restoration industry.
"The ongoing evolution in the auto manufacturing industry means cars are more sophisticated than they were 50 years ago," said panelist Jed Rapoport, project manager for the NB Center for Automotive Heritage. "But there is one constant: auto mechanics and restoration professionals will always be in demand. "
"There is a serious deficit of professionals with the skills and knowledge to complete the work," said panelist Nick Ellis, executive director of the Restoration, Preservation & Mentorship (RPM) Foundation. "People are retiring, and we don't have enough in line to take over. The next generation is the best option for saving it."
As part of his role at RPM, Ellis spends much of his time speaking to young people who have a passion for cars and the potential for this type of work. The foundation serves as the educational arm of America's Automotive Trust and is the leading advocate for restoration and preservation education having provided more than $3.5 million in grants to organizations that provide hands-on experience.
"We would love to make each of their businesses a mini classroom," he said.
The NB Center, where Rapoport is part of the management team, was created to collect, restore, preserve, and present automotive artifacts and knowledge. Located on sprawling grounds in Allentown, the center includes more than 190 vintage cars from global jewelry icon Nicola Bulgari's private collection. Two of those cars were on display to show the "before" and "after" in the restoration process to the LaunchBox guests.
PSU-LV student and member of the campus' Car Club, Dalyla Colon also joined the panel discussion which was moderated by Sara Viteri, actress/producer, and spokesmodel, ASR Media. PSU-LV student and campus' Car Club president, Eilie Saba kicked off the event with introductions to the more than 75 students, faculty, staff and car enthusiasts from the region who joined in the lively discussion.
Like others on the panel, Colon shared that her passion for cars started with helping her father with repairs and led to a love for vintage automobiles. She also told the crowd that her dream restoration would be a 1963 Chrysler Turbine, in part because of its "mafia feel," she said. Rapoport complimented Colon's choice, sharing the distinctive bronze-colored car's rich history. "Only 55 of the Turbine were made and loaned to people to drive for a year to help find its kinks. After, she said, all but nine were destroyed and disbursed between Chrysler, museums and at least one is in a private collection — Jay Leno's."
The conversation then turned to the topic of electric vehicles. "If the next generation is excited [about electric or hybrid], we have to be excited," said Ellis, suggesting that car enthusiasts need to become stewards of the electrified vehicle because, "It's going to happen."
Rapoport added perspective, "There were more electric cars sold in the United States in 1902 than there are now. History repeats itself … it's the next iteration of the industry. But either way, combustion vehicles will still need to be repaired 50 years from now. Work in the field is not going away."
When a member of the audience asked what percentage of a car must be original to constitute a vintage or classic designation, Rapoport gave a bit of a groan before answering, "There is no real designation for this," he said. "It's like saying that you have George Washington's ax — the same one he used to chop down the cherry tree.  Of course, it's handle was replaced three times and its head twice. Is it still his ax? It's the same for these cars."
Speaking to the viability of breaking into the business end of the industry, Ellis cautioned that it is a slow climb to financial success. "The money comes after a few years in the industry, but it's difficult to start out given the time invested in the restoration. It takes one to two years on average to restore a vehicle and tackling something that was dragged out of a field is an even longer process. Some are taking as much as six due to the difficulty of sourcing parts or making what's needed."
Ellis said programs like the LaunchBox provide an important pipeline to the next generation of professionals.
"If we want this industry to survive, we need to engage the entire population," said Elllis. "I think what LaunchBox is doing to bring this topic to the table is fantastic — this is a wonderful resource."