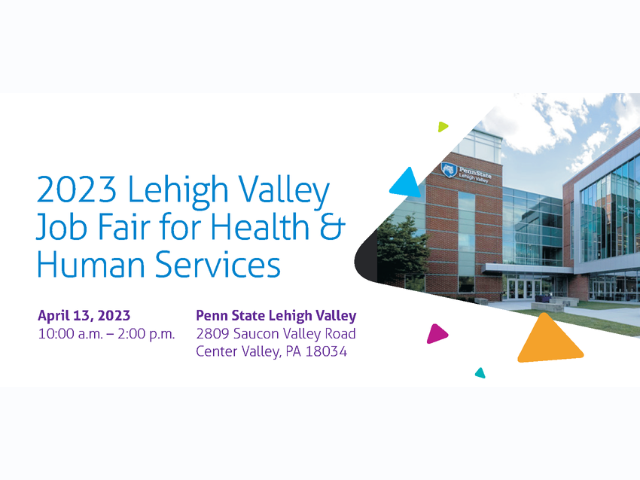 CENTER VALLEY, Pa. — Job seekers interested in learning more about working in the health and human services field can speak with employers, learn about available openings and more at the inaugural Lehigh Valley Health and Human Services Job Fair sponsored by Magellan Behavioral Health. The job fair will be held from 10 a.m. to 2 p.m. April 13 in Room 135 and Center Hall at Penn State Lehigh Valley (PSU-LV). 
More than 38 community providers and local agencies from throughout the Lehigh Valley will have representatives and information available. Attendees can participate in breakout sessions in the student lounge on resume writing, interviewing skills, and maintaining a professional social media presence.  
"For students, this event introduces them to careers in health and human services," said Teri Kistler, PSU-LV rehabilitation and human services program coordinator. "They will be able to talk to providers to learn about positions they have available now, as well as potential internship opportunities." 
The event is free and open to the public. High school seniors, students attending colleges and universities in the Lehigh Valley, and recent college graduates seeking a new or improved opportunity are invited to attend. 
Kistler encourages attendees to bring copies of their resumes. Dress to impress and be prepared for possible on-site interviews.  
Registration is recommended but not required. For more information and to see a full list of participating vendors, visit the Magellan Behavioral Health site.