Faculty and staff brainstorm, share ideas about OER and open pedagogy at daylong event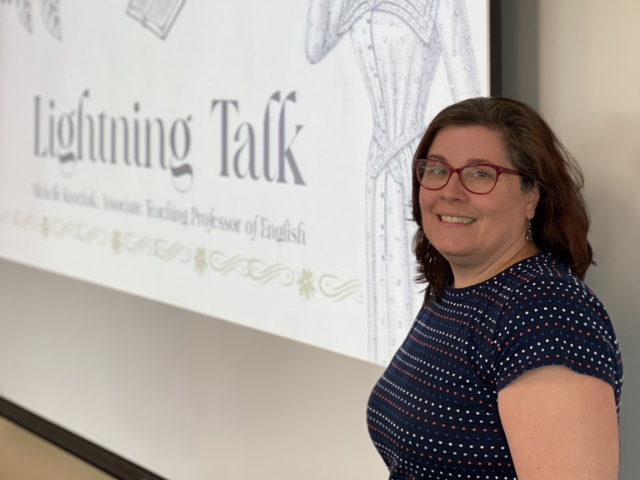 CENTER VALLEY, Pa. — A growing number of Penn State Lehigh Valley (PSU-LV) faculty have incorporated open and affordable educational resources (OER) into their classroom instruction.
Their commitment to utilizing OER and the many benefits it offers students was the focus of the second annual Open and Affordable Showcase at PSU-LV. The one-day conference celebrated open education work happening on campus and offered professional development opportunities for faculty and staff interested in OER, open pedagogy and more. The event was sponsored by the campus library and Academic Affairs. Attendees shared ideas for incorporating OER into their courses and discussed both the benefits of open pedagogy as a means of achieving teaching and learning goals and how OER can make students' Penn State experience more affordable and equitable.
"Each year, [the showcase] has been a great opportunity for faculty to learn what others are doing with open education on our campus. There are so many different ways to explore open educational practices," said Elizabeth Nelson, reference and instruction librarian at PSU-LV, who co-organized the event with Jen Jarson, head librarian. "This year, we added an opening session explaining the concept of open pedagogy, which was meant to support our many presenters discussing how they've used this approach in their courses."
The day's agenda began with opening remarks from Tina Q. Richardson, PSU-LV chancellor, and the "Intro to Open Pedagogy" session. The 15-minute "Lightning Talks," in which five PSU-LV faculty members shared some of the ways they are utilizing open education concepts, were among the day's highlights. Presenters and topics were:
Samantha Beebe, program coordinator and lecturer, biobehavioral health: "People are Resources Too: A Social Approach to Open Pedagogy."
Alison Bonner, assistant teaching professor, mathematics: "Fun and Free Physics at Home."
Tracey Carbonetto, lecturer, engineering: "Two Open Pedagogy Approaches in PSU 8."
Michelle Kaschak, assistant teaching professor, English: "Building an Authentic Audience with Open Pedagogy."
Larry Musolino, assistant teaching professor, mathematics, and Angelina Roccamo, student: "Open Pedagogy in ART197A – Student-edited Wikipedia Content."
Following the "Lightning Talks," two concurrent roundtable discussions were held over lunch: "OER Adoption in Practice," led by Nelson, and "Student Engagement with Open Pedagogy," led by Jarson.
"This was a nice opportunity for faculty, staff, librarians and administration to talk about what open education means on our campus more broadly," Nelson said. 
The roundtables were followed by a "Spark Session" for sharing ideas and finding collaborators. As the final event of the showcase, Kaschak was presented with the Lehigh Valley Open Champion Award for her "Lightning Talk." This award helps celebrate open education-related work on the PSU-LV campus with respect to three domains: work that has made an outstanding impact on teaching and learning; work that has made an outstanding impact on reduction of costs for students; and work that shows outstanding innovation, creativity or originality. The work presented during the showcase's "Lightning Talks" was eligible for the award. Attendees at the showcase participated in a crowdsourced voting process, using the domains specified above as criteria, to determine this year's winner. The day concluded with remarks from Anibal Bernal-Torres, director of academic affairs.
"The Open Education movement is a new approach to pedagogy," Nelson said.  "We often talk about it with affordability first, but with open pedagogy and other areas, it's more about getting students more engaged in learning, making learning accessible to everyone, and giving teachers more control over what they want to teach, while still reducing costs for students to make sure they can take the courses they want to take."