Students conducted primary research for projects around Scottish art and myths during weeklong trip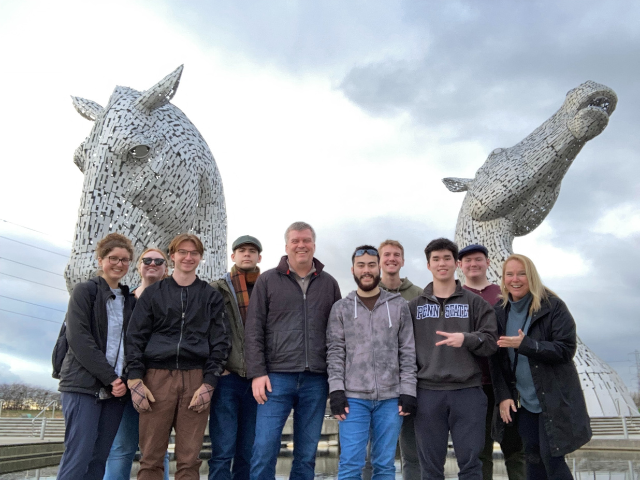 CENTER VALLEY, Pa. — Eight students in the course "World Mythologies and the Arts" at Penn State Lehigh Valley (PSU-LV) had a once-in-a-lifetime opportunity to learn about some of the world's most enduring myths during a weeklong trip to Scotland earlier this semester. During the trip, students conducted primary research for a capstone video project, the results of which were recently shared with the PSU-LV community.
Elizabeth Flaherty, director of the honors program at PSU-LV, and Todd Retzlaff, associate professor of mathematics, chaperoned the eight students whose travels took them to Glasgow, Edinburgh and Inverness — three distinctly diverse Scottish cities. The students were charged with identifying a myth and doing primary research on that myth while in Scotland, in terms of how the arts have embodied it and if it's still a part of Scottish culture. From Selkies to Kelpies, Loch Ness monsters to Clootie wells, the students chose a wide range of mythical beasts and beings for their projects.
The group had a truly immersive experience while abroad.
"We went to multiple castles and toured the castles to talk about Scottish and military history. We went to a bunch of museums. We sampled local cuisine — just about everyone tried haggis. We had a full immersion of different experiences, which is part of the cool thing about the three cities. Each one was so categorically different," Flaherty said.
The group even traveled to the famous village of Loch Ness, but unfortunately had no sightings of the mythical Loch Ness monster.
Students presented their videos in front of a standing-room-only crowd, which was open to friends and family as well as the PSU-LV community. Some voting took place, and each student received constructive feedback on their project. 
"Each of the videos was so unique — the students all took different perspectives," Flaherty said. "We had some documentary-type projects, others were more cinematic. The diversity of the techniques was really impressive." 
Two students collaborated on their project, reading a children's book about the Kelpies [a shape-changing water beast] and incorporated green screen technology into their project.  
"These are honors students, so there was a certain level of initiative I expected them to engage, and they did — I was not disappointed in any way, shape or form," Flaherty. "The creative aspect was really important, because this was about art."
Besides the educational aspects, the students made memories on the Scotland trip that will last a lifetime. Flaherty herself said Scotland is one of her favorite countries to visit, but this last trip was particularly special: "I don't know if it's because the students were so engaging, or the culture. … It was such an enlightening experience," she said. "There is always some hesitation among students when they are traveling with other students they don't necessarily know very well. They bonded as a group and worked very closely together in terms of supporting each other. We really became a big research team while we were abroad because of A.) the culture, B.) the country we were in, and C.) the cohesion that formed among the group. There was one student in particular who always wanted to go to Scotland, so she was excited anyway. When we got back, she said it exceeded her highest expectations."