Lehigh Valley students worked virtually with Tunisian and Palestinian students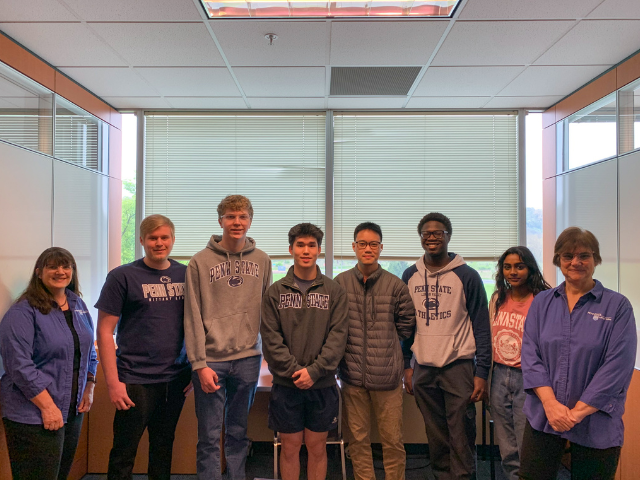 CENTER VALLEY, Pa. –— Students in Penn State Lehigh Valley (PSU-LV) Lecturer Tracey Carbonetto's physics mechanics course worked "side by side" — virtually — with students from Palestine and Tunisia for 10 weeks identifying innovative solutions to an industry challenge through a partnership with Penn State EDGE.
PSU-LV's students were partnered with the students in Tunisia and Palestine and split into teams of three — one student from each school — as much as possible. At the end of the 10 weeks, the groups presented their projects to a panel of experts. Alison Bonner, assistant teaching professor of mathematics at PSU-LV, was part of the panel.
Groups selected one of two industry challenges — one centered around an app for food delivery drivers, and the second presented by FLX Solutions, a Bethlehem-based company that designs robots for various functions.
"[FLX] has a robot design that is very unique," Carbonetto said. "The president was looking for universal adapters that could be added to the robots and be useful in search and rescue operations. They were looking for some device that could be attached to the robot and go into areas not accessible to humans. So, for instance, the recent earthquakes in Turkey and Syria — that would be one example. The robot could go in and look for survivors while the rescue was ongoing."
Working in different time zones and overcoming language barriers were found to be the most difficult aspect of the project for most of the groups. Students collaborated on their projects using Google Classroom, Zoom and What's App.
According to first-year aerospace engineering major Brian Dickerson, whose group worked on the robot, the challenge itself was exciting: "We were building on existing technology, so exploring that was pretty cool. Our final product had an endpiece with a 360-degree video it was sent into. Then there was a screw-off lid where you could store medicine [to be used in difficult-to-reach disaster areas]."
Dickerson said the project helped push him out of his comfort zone: "I went into this nervous about communicating with people I didn't know. I'm not a very talkative person — I had to push myself to talk to people." 
Cade Brandon, first-year mechanical engineering major whose team also worked on the robot project, said his teammates were Muslim and the group worked around Ramadan holiday observances.
"Ramadan lasts 30 days, so we usually met on Saturdays to accommodate them," he said. "It was cool to meet students from other countries. We got a video from one of our teammates showing how they decorate during Ramadan. We got to see some of the little differences in how the students live and go to school."
Shifra Suthakar's group worked on the app for delivery drivers. The main goal was to develop a user-friendly, simple app for drivers not familiar with new technology.
"In our settings we included a video that would be a tutorial," said Suthakar. "We had a Google Map inside the app so [drivers] wouldn't have to switch between apps."
Suthakar, a first-year computer science major, did not have the language barriers many of her classmates did. "My group members' English was really good. We got a lot of things done at our meetings. We could all contribute ideas and different perspectives," she said.
Hong Nguyen, a first-year computer science major, enjoyed the collaboration process and learning more about the technology used for the robot. "It was the first time I was able to discuss a problem and solution," he said. "I think it [discussion] would be helpful for any kind of project that requires group work. This project helped me improve my teamwork skills." Kevin Genetti and Solomon Olaniyan, also first-year engineering students, completed the experience as well.
The teams presented their final projects using Zoom. Brandon said his team felt the pressure to condense their presentation into their allotted seven minutes. "The panlists were CEOs from other countries, other teachers from our school. It was nerve-wracking but worth it," he said.
Carbonetto said these projects not only teach students the basics of using an engineering framework, but how to collaborate with teammates from different backgrounds and life experiences.
"The project framework is the engineering design process. It's the process they should be using for decision-making," she said. "They learn the process and apply it to a real-world situation, and along the way, they learn how different cultures influence the problem-solving process. What do students have to work with in Palestine and Tunisia as far as government regulations, or ethical decisions?"
At the conclusion of the project, students faculty facilitators from all three partner institutions, and the panel experts received Certificates of Participation from the Penn State Global Education office.