Faculty and staff marking milestone anniversaries given special recognition at annual All-Campus Day event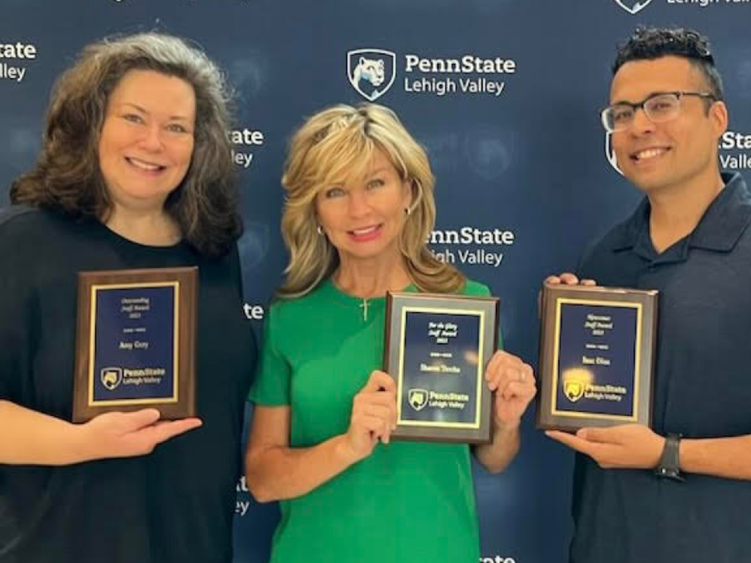 CENTER VALLEY, Pa. — Penn State Lehigh Valley (PSU-LV) faculty and staff were recognized for their accomplishments and dedication during the All-Campus Day luncheon on Aug. 18. Anibal Bernal Torres, director of academic affairs, presented the awards. 
Faculty honored for their academic excellence, notable service, innovative teaching, and exceptional research included: 
Maung Min, associate teaching professor and director of business programs, who received the 2023 Teaching Excellence Award for Full-time Faculty. One of the students who nominated Min said, "He gets to know us and seeks to aid in our personal and professional growth." 
Margaret Christian, English discipline coordinator, who received the 2023 Outstanding Contribution in Outreach Award. Christian was named English discipline coordinator in 2020 and has served as ombudsman for the PSU-LV campus. As discipline coordinator, she supports the working lives of her colleagues and promotes their pathways to success at PSU-LV. In the community, Christian has served Lehigh County as a CASA (court-appointed special advocate) since June 2006. Lehigh Valley CASA is a government-funded volunteer program that works with children who have been removed from their homes due to abuse and/or neglect. 
Nichola Gutgold, professor of communication arts and sciences, received the 2023 Outstanding Research Award. Gutgold is an expert on the rhetoric of women in traditionally male-dominated fields. Gutgold was nominated because of her extensive research and notable accomplishments in her area of expertise — namely, she has interviewed Supreme Court justices Ruth Bader Ginsburg and Sonya Sotomayor, authored 14 books, presented 17 papers at academic conferences, and 36 invited lectures about her research at academic and community-based venues. 
Serving on the faculty awards committee were Michelle Kaschak, Sandy Kile, Jennifer Parker, Elizabeth Flaherty, Daniel Jackson, Jacqueline McLaughlin, Maung Min, Margaret Christian, and Beth Michalec. 
Staff recognized for their dedicated work ethic were: 
Amy Gery, visual communications specialist in the campus' strategic communications office, received the 2023 Outstanding Staff Award for extraordinary service to the Lehigh Valley campus. Gery received the award because, as one nominator wrote, "this award winner's creativity, attention to detail, and productivity are truly extraordinary," adding Gery has been willing to proactively learn and take on additional responsibilities throughout several staffing changes and shortages, noting the office is a demand center, receiving over 620 form requests over the past year to support the campus, in addition to their regular duties.  
Sharon Tercha, director of strategic communications, received the "For the Glory" award, which recognizes a staff member with Penn State "spirit," be it attitude, energy, enthusiasm and/or a willingness to go above and beyond. In her nomination, Tercha is described as "quick thinking, logical, calm, and very well connected to the area … she is very prolific, an amazing writer, and consistently shows sound judgment.  She is an expert and creative wordsmith and advertising visionary that is always making our campus look and sound good. Her ability to think strategically as well as put her nose to the grindstone and get the work done is unparalleled. She has managed and grown employees to take on larger responsibilities at the expense of her own unit. That's the very definition of the statement 'for the glory of Old State' in action." 
Izac Diaz, IT system administrator, received the inaugural Penn State Lehigh Valley Campus "Newcomer" Award. In his nomination, Diaz was described as a tremendous asset to campus. "From his first day, he has worked diligently to ensure that all our technical needs are met and any issues are resolved," one nominator said. "Not only does he provide effective solutions, but he also presents alternatives when appropriate. Additionally, his ability to remain composed and effectively tackle complex and urgent problems is a remarkable strength." 
The awards committee of the Staff Advisory Council included Lorie Khalil, Tiffany Valdes-Madera, Kathryn Pitts, and Hiba Moussa, with recommendations approved by the PSU-LV Chancellor Tina Richardson. 
Faculty and staff marking milestones with PSU-LV in 2023 were given special recognition. "Length of service recognition is critical because these employees provide stability and institutional knowledge to our campus and for our University," Torres said. Employees celebrating anniversaries were:  
25 years: Jennifer Parker 
20 years: Scott Kerchner, David Livert, Todd Retzlaff 
15 years: Michael Damweber, Eileen Grodziak, Richard Martin, Linda Rumfield 
10 years: Daniel Jackson, Liz Keptner, Sandy Kile, Maria McKee, Ana Serrano-Martinez, Tina Weidele, Debbie Zuech-Smyrl  
Five years: Yu Mi Jeong, Nicole Moschberger, Elizabeth Nelson, Steve Yoachim