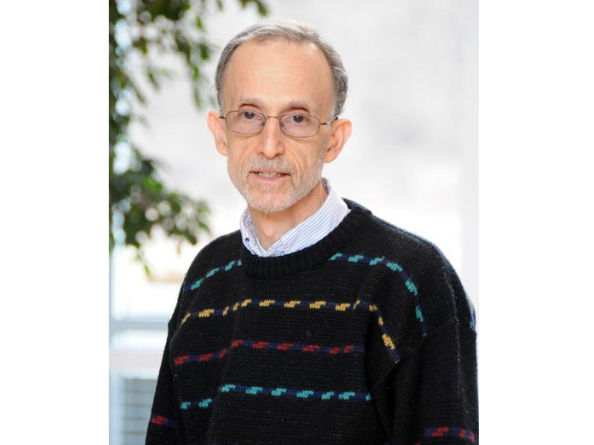 CENTER VALLEY, Pa. — Mark Gruskin had many roles throughout his career, most notably as a corporate executive at Ford Motor Company. But when he retired, Gruskin woke a dormant dream to pursue a teaching career, quickly prioritizing the pursuit of the doctorate degree that would enable his final life's journey as a university professor.  
A proud and active alumnus of Penn State Greater Allegheny, Gruskin taught at Penn State Lehigh Valley (PSU-LV) for over a decade. Primarily a finance and accounting professor, he served in the role of interim director of academic affairs at Lehigh Valley prior to the hiring of Anibal Torres Bernal, who currently holds the position. According to his peers, Gruskin was quiet, humble and passionate about the subjects he taught — a beloved instructor and colleague.  
Gruskin died suddenly in May, and his colleagues said his loss has been felt deeply across campus.
"He was a wonderful colleague," said Denise Ogden, professor of marketing. "He was very private but loved Penn State. He started as a student at the Greater Allegheny campus, then went to University Park. I think that set the foundation for his loyalty and love for our campus."  
Beyond his clear dedication as a faculty member, Gruskin was a major donor to Penn State, having contributed several million to the Greater Allegheny campuses and nearly $1 million to PSU-LV. His generosity was abundant, yet he never sought the spotlight.  
"He was a quiet guy with a huge heart," said Kermit Burley, information technology lecturer and program coordinator at PSU-LV. "Many people didn't know how huge the heart was, how kind he was. He was an expert in his field and a 'down to business' kind of person who spent a lot of time with students."
Burley, now the faculty senate chairman, looked to Gruskin, his predecessor, as a role model when he assumed the position.  
Gruskin was passionate about adding accounting and financial services options to the campus' business program.
"Thanks to his vision and ability to plant the seeds, we now have quite a few accountants and wealth managers who are graduates of PSU-LV," said Maung Min, associate teaching professor and director of business programs at the campus.  
Colleagues in the business department paid tribute to Gruskin at the start of the fall semester this past August.
"Because he was so low-key, we were careful to do something he would be okay with, so we decided on a tasteful plaque," Min said.
Colleagues and administrators at PSU-LV gathered for a dedication and unveiling of the plaque, which hangs on the wall by the faculty offices, close to Gruskin's former office, on the second floor. Min, Ogden, Torres Bernal and Tina Richardson, PSU-LV chancellor, gave remarks during the brief ceremony. 
In her comments, Ogden focused on four character traits Gruskin embodied: loyalty, professionalism, humility and generosity.
"I was talking to a group of students and said, 'He donated millions to Penn State,'" Ogden said. "They said, 'We didn't know he was a millionaire!' That's the definition of humble. He quietly showed his loyalty and love to the students and our campus."  
Because he was so private, Burley was one of the few who knew of Gruskin's love of baseball and vintage albums.
"He was from Pittsburgh, which we all knew, so that made him a Pittsburgh [Pirates] fan," he said. "He could recite the starting lineup of both teams from the 1960 World Series, when the Pirates were in it." 
Gruskin also loved vinyl albums, according to Burley. 
"He'd go across the street to Barnes and Noble to buy albums, but he didn't just collect them — he listened to them," Burley said. "He went after the hard-to-get vinyl." 
Ogden said the plaque will be a lasting tribute to Gruskin's impact and influence at PSU-LV.
"It's a reminder for faculty and staff that he made an impact, and for students who didn't know him, to recognize he was a strong supporter of our campus," Ogden said.