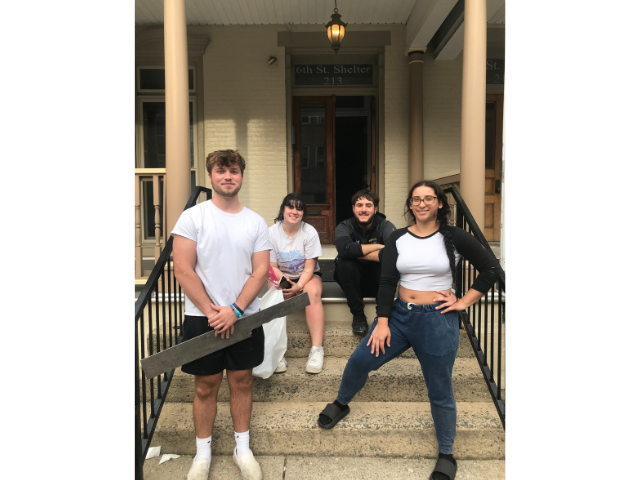 CENTER VALLEY, Pa. — After studying social stratification and the roots of the U.S. housing crisis, students in Penn State Lehigh Valley (PSU-LV)'s introduction to sociology class elected to go to the Sixth Street Shelter in Allentown to help rehabilitate apartments.
Students completed physical tasks including painting, cleaning, removing debris and minor repairs like clearing plumbing pipes. The work was done to make the apartments move-in ready for a new family.
According to Jennifer Parker, associate professor of sociology at PSU-LV and the course instructor, the class was motivated to help after reading Princeton sociologist Matthew Desmond's Pulitzer Prize-winning book, "Evicted: Poverty and Profit in the American City," which was published in 2016. It shines a light on the social structures and historical processes that have led to current conditions whereby increasing numbers of U.S. families are housing insecure, persistently priced out of and ultimately denied a stable home life.
"Getting out of the classroom and into the community brings greater clarity to complex problems that we can bring back into the classroom to discuss, like how to bring about structural reforms to end the crisis," Parker said. 
Many students were shocked by the scale of the United States' housing crisis, Parker said.
"I was not aware of how big of a problem this is," said Hailey Castillo, a student in the class. "Home is supposed to be the place where you feel safe and secure with your family and children."
Student Zeyad Ragab agreed.
"I was shocked to learn how normal it is for so many people to pay 80% or more of their earnings to rent," Ragab said.
The Sixth Street Shelter provides temporary housing to families experiencing homelessness, including single parents with children and members of the LGBTQIA population.
"Our waitlist is huge," said Wendy Wright, the shelter's development officer. "Each time we bring in a new family, we need to rehabilitate an apartment for them. This group of Penn State students seemed to really have a passion for understanding and serving others."
The Sixth Street Shelter also offers families assistance with getting back on their feet, including searching for affordable housing.
"But given the status of the housing situation today, it is really tough to get families placed in affordable long-term rentals here in the Lehigh Valley," Wright said. "Homelessness today is about the housing market and inadequate safety net. Even parents working full-time can find it challenging to find a place they can afford."
The students said they were unsure how much of an impact they could have.
"Coming into this experience I did not expect our work to make a big difference, but I was happy to see how fast a family in need was able to have a home," said Jesel Nieves, another PSU-LV student.