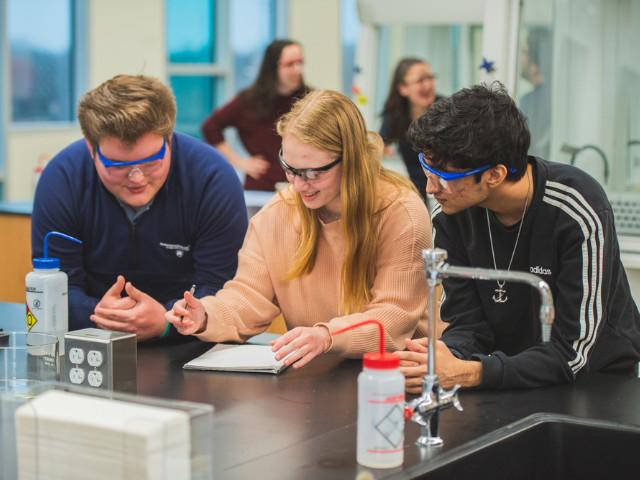 CENTER VALLEY, Pa. — As a high school student, Gabriela Cavalheiro gravitated toward art and math. She liked science but didn't know what she loved. She certainly never considered a career in a science-related field. That all changed when she started classes in the biobehavioral health (BBH) program at Penn State Lehigh Valley (PSU-LV).
Cavalheiro was free to turn her casual interest in science into something greater, she said.
"That's where my love for science and research came from," she said. "I took four BBH courses in one semester, and thought, 'This really isn't too bad.'"
Cavalheiro said she chose PSU-LV because the idea of attending a larger school seemed daunting.
"PSU-LV seemed like a safe option. I knew I'd be taken care of academically," she said. "Going to a branch campus would provide me with the same classes and opportunities, but on a smaller scale. It was important to me to build relationships with my teachers and classmates."
Cavalheiro said she chose the BBH program in particular because of its applicability to so many areas.
"It was described to me as a career that could open many doors," she said. "I didn't know what I wanted to do until my junior year."
Now a senior, Cavalheiro is enrolled in PSU-LV's accelerated five-year Master of Public Health (MPH) program with the goal of working in global or public health. Students enrolled in the MPH program complete three full years of courses at PSU-LV, a fourth year taking courses in-person at PSU-LV and virtually by the Hershey College of Medicine, and the fifth year taking courses in-person or online at the Hershey College of Medicine.
"I pursued the master's in global health because that's what interested me most," she said. "It was the accessibility of it. [The degree] was something I could achieve anyway. But the lower admission cost, the fact that I could do it in my senior year and the year after that, and it was adjustable to my schedule — those were the reasons why I was able to do it."
A fellow BBH alum, Soma Asad was not completely clear on her future, but she had a list of what she did and didn't want in a career.
"I knew I wanted to be in healthcare and didn't want to be a bio major," Asad said. "I didn't want to take 400- and 500-level bio courses. I liked the clinical aspect of health care but knew I didn't want to be a doctor. It's a lot of schooling. I like working and being in the field, so when I heard about physician assistant (PA), I thought it sounded perfect for me. I like being in charge enough where I can meet with patients, but I can consult with a doctor if I have a question."
Another "nice to have" on Asad's checklist was finding a school close to home that could accommodate her career plans, she said. PSU-LV's BBH program checked all the existing boxes and even a few not on her list. The program was broad enough to apply to a variety of healthcare careers, yet specific enough to align with Asad's professional goal of being a physician assistant.
"I picked a major that would allow me to take all my prerequisites at PSU-LV for PA school," she said. A first-generation college student, Asad was familiar with Penn State's reputation and knew the PSU-LV campus well, as her older sister was an alum.
A 2017 PSU-LV graduate, Asad started her PA studies at the Philadelphia College of Osteopathic Medicine (PCOM) in 2020. The foundational skills she developed at PSU-LV, combined with her practical nature and work ethic prepared her for the next phase of her education. Still, she said, jumping into the reality of graduate school was an adjustment.  "I don't think you're 100 percent prepared until you get into the program," she said.
Unlike Asad, Jerad Flatt knew he wanted to be a physical therapist.
"I was initially looking at health and human rehabilitation, but when I told one of the [PSU-LV] advisers I wanted to go to PT school, they suggested I go into the BBH program," he said. The holistic knowledge he acquired about the human body was Flatt's biggest takeaway.
"There's a lot more that goes into influencing human health besides biology," he said. "[In the BBH program] we learned about the mind/body connection and psychology, and its impact on our mental and physical health, as well as the socioeconomic factors that have large implications on human health. It's been really useful for me even in my post-graduate studies. It's been good to know about the joints and have a broader understanding of how all these factors shape human health. You don't just treat the person's deficiencies — you treat the whole person."
The program's versatility and applicability to countless health- and medical-related careers makes it attractive to students looking to work directly with patients or the public, said Samantha Beebe, BBH program coordinator, assistant teaching professor, and coordinator of the accelerated MPH program.
"BBH is kind of a perfect marriage of the traditional biological view of health and public health, so it really prepares students to look at the underlying causes rather than the surface issues," she said. "It's the multi-perspective, holistic approach that gives students the edge when they're competing for those sacred professional school seats because they have surveyed health and wellness from a biological, psychological, environmental, cultural and global perspective across the human lifespan. They understand the complexities of health."
For more information on the BBH and MPH majors, visit the programs' website.