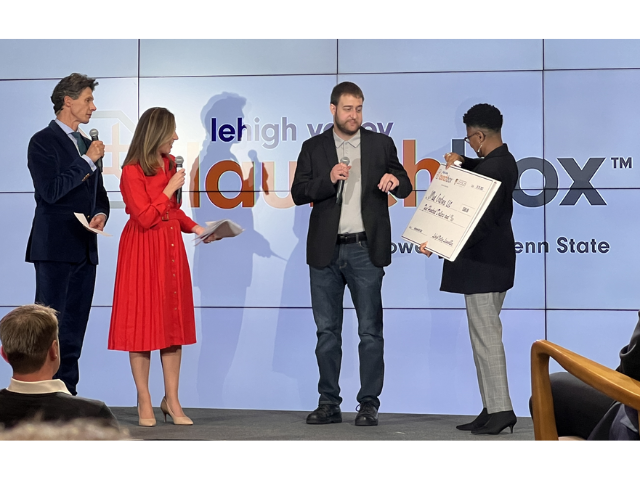 CENTER VALLEY, Pa. — A cutting-edge health monitoring device took home the top prize in the fifth annual StartUp Lehigh Valley pitch competition held Oct. 25 at Factory LLC in Bethlehem. The event was sponsored in part by the Penn State Lehigh Valley LaunchBox.
The pitch competition is a "Shark Tank"-style event for local entrepreneurs designed to showcase innovation happening in the community and support the next generation of local business leaders. Laura McHugh, vice president of marketing and communications for the United Way of the Greater Lehigh Valley, and Bo Koltnow, anchor/reporter at 69-WFMZ, hosted the event.
Sixty entries were received and narrowed down to seven finalists — one from California — whose businesses included health care, equine care, food/beverage, games and technology. The finalists made their pitches to a panel of judges during the live and online event.
Prizes totaling more than $33,000 were awarded. Tina Q. Richardson, Penn State Lehigh Valley chancellor, presented $4,500 in prizes on behalf of Lehigh Valley LaunchBox — a $3,000 Founders Award and three $500 Boost Awards. The prize money was awarded by Lehigh Valley LaunchBox, Lehigh University and Ben Franklin Technology Partners. Lehigh Valley LaunchBox is an innovation hub based at Penn State Lehigh Valley that provides startup resources for new enterprises, including but not limited to free legal advice, office space and advice from expert business advisers.
The winners were:
Jonathan Maderic, J Mad Creations Inc., won the $20,000 grand prize, a $500 Boost Award from Lehigh Valley LaunchBox, and six months of support from Lehigh Ventures Lab, presented by Lisa Getzler, vice provost for entrepreneurship at Lehigh University. Maderic, a Penn State alumnus, created a device that better measures pulse and oxygen in people with dark skin.
Alexander Wesley, Splay, first runner-up, took the $3,000 prize. Splay is an expandable display that triples a laptop screen's size, yet folds to the size of a headphone case.
Abdulrasaq "Dulra" Amolegbe, Dot Inc., was second runner-up. The venture won $2,000, as well as a $5,000 award as the top early-stage technology-based firm from Ben Franklin Technology Partners, presented by Angelo Valletta, president and CEO of Ben Franklin Technology Partners, and a $500 Boost Award from Lehigh Valley LaunchBox. Dot is a digital banking experience for immigrant students in Africa.
April Schiel, The Bedding Blocker/MuckMeister Enterprises, won the $3,000 Founders Award and a $1,000 Audience Choice Award, presented by Nathan Urban, provost and senior vice president for academic affairs at Lehigh University. Bedding Blocker keeps bedding in horse stalls while keeping mud out.
Aly Kenawy, Voize Box, was the third winner of a $500 Boost Award from Lehigh Valley LaunchBox. VoizeBox is a voice-centered social media platform.
"Penn State Lehigh Valley is committed to developing the next generation of entrepreneurs, which is why competitions like StartUp Lehigh Valley are so important," Richardson said. "With Gen Z dominating the startup business market, it's no surprise that co-founders Penn State Lehigh Valley and Factory LLC want to be involved with entrepreneurship in Pennsylvania."
The panel of judges included Giana Jarrah, founder of Meraki Co. and 2022 Start Up Lehigh Valley grand-prize winner; Rich Thompson, founder of Factory LLC; Sue Yee, founder and CEO of Active Data; and George Lewis, senior assistant to the president and CEO of the Lehigh Valley Economic Development Corporation.
Lehigh Valley LaunchBox has resources and support available to the next generation of entrepreneurs. For more information, visit the Lehigh Valley LaunchBox website.