Students spend break volunteering across the region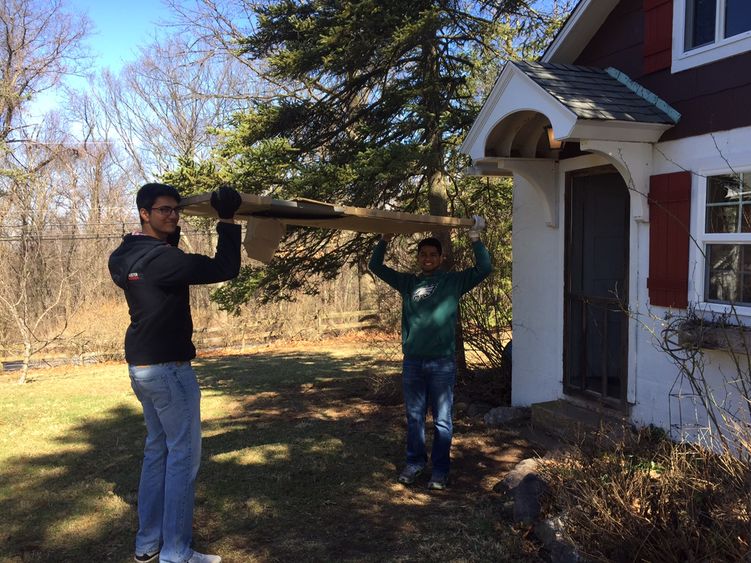 CENTER VALLEY, Pa. — Penn State Lehigh Valley students spent the week of spring break volunteering across the Lehigh Valley through the Mini-Days of Caring program organized by the Office of Student Affairs.
Students were invited to sign up for one to four days of service depending on their interests and availability.
Day one, March 6, was spent at Phoebe Home in Allentown. Student volunteers spent the day with residents in memory care providing socialization and sensory stimulation through a variety of games and other activities
"These residents love intergenerational activities. And volunteers like the Penn State Lehigh Valley students help the employees by giving these residents special attention," said DeeDee Urffa, one of the community life coordinators at Phoebe Home. "The caring I see from these college students shown to people they don't know touches me. I am impressed they are willing to give up their spring break to do this."
Sim Singh, a senior psychology major at Penn State Lehigh Valley, was one of the student volunteers at Phoebe Home.
"It is a shame that there are so many elderly who have been forgotten after paying their dues to society. People forget they are human begins with emotions and feelings," said Singh. "I think it is fantastic that Penn State Lehigh Valley gave us this opportunity to serve the community and arranged for four days to give back. We all need to have more empathy."
On day two, March 7, students went to the Sixth Street Shelter in Allentown to help distribute food to those who rely on weekly food distributions from the shelter; restock the shelves at the food pantry; organize donation shelves for resident apartments; and help clean the child care and play room.
Flint Hill Farms in Coopersburg was the location for day three on March 8. Students assisted with organizing, and painting of the blacksmith shop, which will soon be used as a teaching classroom for the local students who visit Flint Hill farms. Students also assisted in stacking wood and helped with general farm clean-up.
For the last day on March 9, students visited the American Red Cross to help prepare decorations for its annual ball. This is the largest annual fundraising event for the local Red Cross Chapter and the students' assistance will help provide an enjoyable atmosphere. While at the Red Cross, students had an opportunity to listen and learn from Executive Director Peter Brown as he shared the many facets of the Red Cross service provision.
This was the first year of local "alternative spring break" and the Student Affairs team was very pleased with the response of student volunteers.
"We wanted to keep our reach local this year and give our students the chance to connect with Lehigh Valley agencies who serve those in our own community," said Pam Fleck, assistant director of student affairs at Penn State Lehigh Valley.
Each day, about a dozen students along with Fleck and Cindy Nguyen, coordinator of student life at Penn State Lehigh Valley, embarked on a new project.
"The sites were varied and each day gave a new, unique and meaningful experience to our students," said Fleck.  "We look forward to continuing the relationships started during this week of service and further engaging our students in serving the local community. While students have many ways that they can spend their spring break, it was especially satisfying to see them sharing their time and talents through service to those in need."
Students were awarded swag items depending on how many Mini-Days of Caring they participated in.
Contact
Dennille Schuler
Public Relations Specialist
Penn State Lehigh Valley