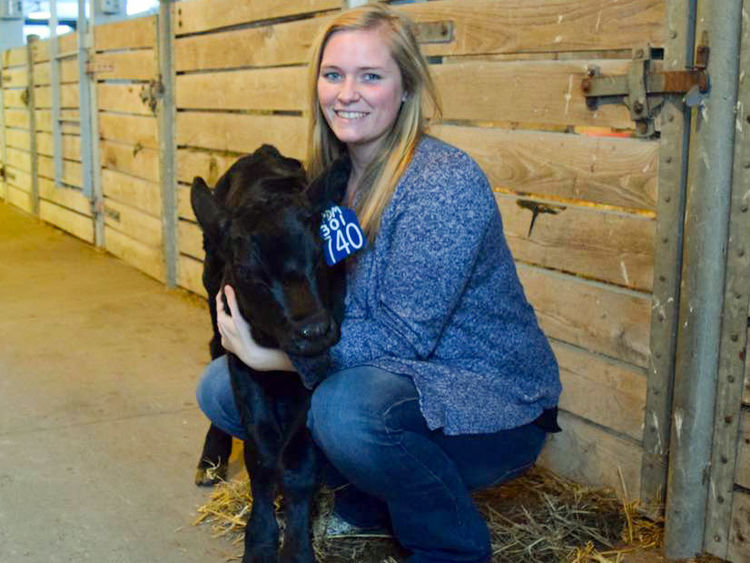 UNIVERSITY PARK, Pa. — The Little International Livestock Exposition, commonly dubbed "Little I," has been a staple of the Penn State agricultural community for many decades. And this year, senior animal science major Kasie Kerr is running the show.
As the Little I show manager, Kerr, along with assistant managers Chandlar Kern and Sharon Snyder, is organizing this year's event — the 100th Little I — which will be hosted in the Snider Ag Arena from 8 a.m. to 3 p.m. on Saturday, April 8.
Little I is a livestock show that allows students to gain experience and knowledge in handling different types of livestock. Under the guidance of their peers, students learn how to work with a variety of species, including hogs, heifers, horses and ewes.
Kerr first became involved with Little I as a sophomore, when she showed a heifer at the event. She was later inspired to follow in the footsteps of her brother, who served as show manager three years ago.
"Little I was great in helping ease my transition to University Park from Lehigh Valley," explained the Bangor, Pennsylvania, native. "I was surrounded by people with similar interests to me, and it made me feel welcome."
In honor of its 100th anniversary, Little I will be making special acknowledgements of important figures in the program's history, including distinguished animal sciences alumni and the 2016 judging team.
"This is a very special year for us," said Kerr. "We have many alumni who plan to come back and enjoy the show, and throughout the day, we will be recognizing various groups of individuals who are part of Little I's history."
Kerr has valued her time with Little I over the past three years. She believes it is a special event that brings the agricultural sciences community at Penn State together.
Not all students involved in animal science have animal experience, said Kerr, who plans to return to her family's small beef operation after graduating. "Little I is a fun and rewarding way for students to gain experience with livestock, which could potentially help them find success in the agriculture industry. It's a great community event."
Kerr admits that planning the event has been stressful at times, but still feels that, ultimately, the hard work has been worth the reward.
"I have the opportunity to work alongside many of my peers to orchestrate this monumental event," she said. "I can't wait to see how everything comes together on Saturday."