Adam Yenser, Emmy Award-winning writer for 'The Ellen DeGeneres Show' and a 2005 alumnus, was the featured speaker.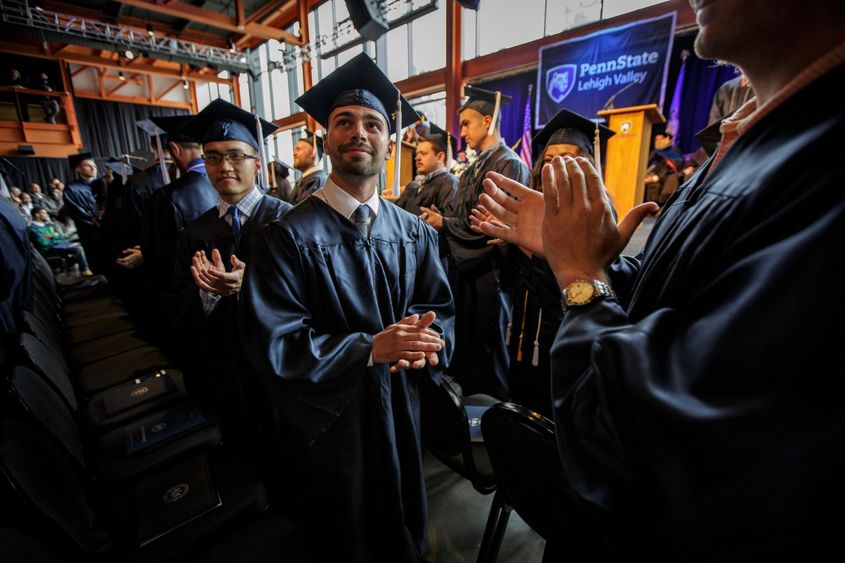 CENTER VALLEY, Pa. — Penn State Lehigh Valley held its annual commencement ceremony on Saturday, May 6, at ArtsQuest Center at SteelStacks in Bethlehem. The campus awarded associate and bachelor's degrees to more than 100 students.
The featured speaker for the event was alumnus Adam Yenser, Emmy Award-winning writer for "The Ellen DeGeneres Show." Yenser earned degrees in film and video production and philosophy from Penn State in 2005.
During his remarks, Yenser shared his personal and professional journey, while giving advice to the graduates. He challenged the class of 2017 to take risks, stick to their values, have patience and tolerance, and work hard to reach their goals. Yenser reminded the graduates that being open to new ideas and surrounding themselves with a diverse group of people will bring the best opportunities.
"I still make mistakes, but the mistakes aren't the times I've tried something and failed, the mistakes are the times when I don't take a risk in the first place and the times I've hesitated to stand up for what I believe in. When you fail at something you'll experience short-term disappointment, but when you don't try, when you don't take a risk in the first place, or when you compromise your values, you'll experience long-term regret. Always strive to make your actions and choices match your values. Never adjust your values to accommodate your choices and actions," said Yenser.
Yenser's full commencement address can be viewed at https://www.youtube.com/watch?v=IcadVESMCHY. 
Other remarks were given by Tina Q. Richardson, chancellor of Penn State Lehigh Valley; Michael McShane, student marshal; and Roger Egolf, chair of Penn State Lehigh Valley Faculty Senate.
McShane was selected as the student marshal for the class of 2017. McShane graduated with a bachelor of science degree in business administration with a concentration in management and marketing. McShane has been a part-time student at Penn State Lehigh Valley for 14 years. His speech encouraged graduates to never stop learning.
"While I have learned many lessons, these are five lessons that I would like to share with you: Apply what you have learned, give back, never give up, share your talents, and don't stop learning," said McShane.
After the presentation of the candidates and conferring of degrees, the graduates were inducted into the Penn State Alumni Association by Larry Trubilla, president of the Penn State Lehigh Valley Alumni Association.
To purchase photographs from commencement, visit http://danz.photoshelter.com/gallery/2017-PSU-Lehigh-Commencement-Photos/G0000oZDibcPWOXo.