CHANCE participants conducted biological and ecological research alongside field scientists this summer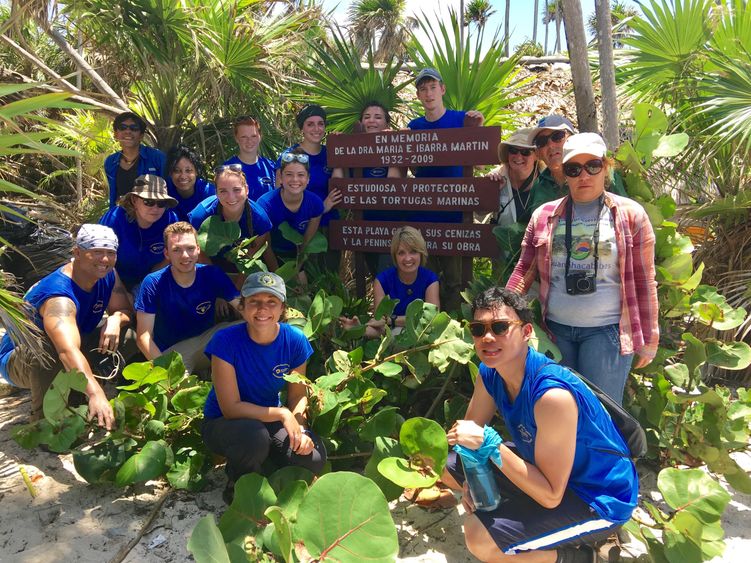 CENTER VALLEY, Pa. — Penn State University's CHANCE program was founded in 2004 at Penn State Lehigh Valley to prepare global-minded citizens who understand the importance of restoring and protecting the biodiversity of our planet's ecosystems, and who are willing to address the challenges of today, such as energy, air, food, water and climate change, through their efforts. CHANCE stands for Connecting Humans and Nature through Conservation Experiences.
The CHANCE program was founded by Jacqueline S. McLaughlin, associate professor of biology at Penn State Lehigh Valley. Recently, McLaughlin won the prestigious 2017 Higher Education Environmental Educator of the Year Award from the North American Association of Environmental Education (NAAEE) for her work with the CHANCE program. She will receive her award at their 46TH Annual Conference in Puerto Rico on Oct. 21.
"Conservation biology is the scientific study of the phenomena that affect the maintenance, loss and restoration of biological diversity in our world's varied ecosystems. CHANCE places students at the front line to research such phenomena. To do this, CHANCE creates unique learning environments which include short-term international field courses and online research modules," McLaughlin said.
Throughout the years, CHANCE has traveled to many different countries around the world to conduct biological and ecological research, including China, Costa Rica, Cuba and Panama. During the program's most recent field course, students and teachers focused on conservation and the sustainability of select ecosystems in western Cuba.
Participants in the CHANCE Cuba field program were required to carry out pre-trip, online assignments before venturing into the field to learn from local government experts, university faculty and National Park biologists about ongoing Cuban conservation efforts and environmental policies as they explored the biodiversity of the rainforests of Sierra del Rosario; wetlands, mangroves, forests and coral reefs of Guanahacabibes Peninsula; and farmlands of Viñales. While in the field, students also worked in groups to research a specific environmental sustainability issue confronting this developing nation and the world. They experienced many of Cuba's cultural offerings while in the field, including jazz and dance performances, art museums, a walking tour of historical Old Havana, tobacco cigar farms, and meals in paladares (restaurants run in private homes).
A conservation-based, service-learning project on nesting sea turtles was also performed in conjunction with biologists from Guanahacabibes National Park as part of their Research, Monitoring and Management Program.
"Students would clean up a secluded turtle rookery from plastic pollution in the afternoon, then dress in black from head-to-toe and wear their head lamps equipped with red light at night in order to assist in turtling efforts — patrolling beaches to deter poachers, assisting turtles with the nesting process, identifying and tagging turtles, counting eggs and marking nests. This is where students were transformed into conservationists. They knew that they were helping endangered species fight extinction." said McLaughlin.
10 students from Penn State's University Park, New Kensington and Altoona campuses, along with McLaughlin and co-instructor Kathleen Fadigan, assistant professor of education at Penn State Abington, plus teaching assistant Sarah Eissler, graduate student at Penn State College of Agriculture, were able to learn about environmental protection, conservation and the sustainability of Cuban ecosystems first-hand through the various opportunities provided by the CHANCE Cuba field course.
"Watching how communities of people sustainably interacted and lived in these impoverished areas inspires hope that people will realize the possibility of minimizing their impact on their environment, while also maximizing their living standards," said University Park student Ethan Liu, who participated in the CHANCE Cuba field course.
Tianna Fredericks, another University Park student, referred to her Cuba experience as "mind-blowing and humbling."
"Sometimes, it is not that communities are being ignorant, but simply that they do not understand the consequences of their actions. ... Yet, more than just getting people to understand, we also have to find ways to make them care," said Fredericks.
All CHANCE Cuba participants are presently working steadfastly on a professional undergraduate research poster to be presented at the 2018 Penn State Undergraduate Research Exhibition.
With CHANCE's work in western Cuba coming to a close, the next location the CHANCE program will be focusing on is Australia, and then Eastern Cuba, to connect students with the biodiversity of their ecosystems. To learn more information about CHANCE and how to get involved, visit chance.psu.edu or contact Jacqueline McLaughlin, at [email protected].
Support CHANCE and other PSU-LV programs
Gifts from Penn State's alumni and friends have been essential to the success of the University's historic land-grant mission to serve the public good. To fulfill that mission for a new era of rapid change and global connections, the University has begun "A Greater Penn State for 21st Century Excellence," a fast-paced campaign focused on the three key imperatives of a public university. Private support will keep the door to higher education open and enable students to graduate on time and on track to success; create transformative experiences on Penn State campuses and around the globe that tap the full potential of Penn Staters to make a difference; and impact the world through discovery, innovation and entrepreneurship. Penn State Lehigh Valley aims to impact the world and serve the needs of society through signature global-based programs such as CHANCE. To support programs like CHANCE and to learn more, visit greaterpennstate.psu.edu.