Katina Sossiadis is currently working on her first feature film, 'Epiphany'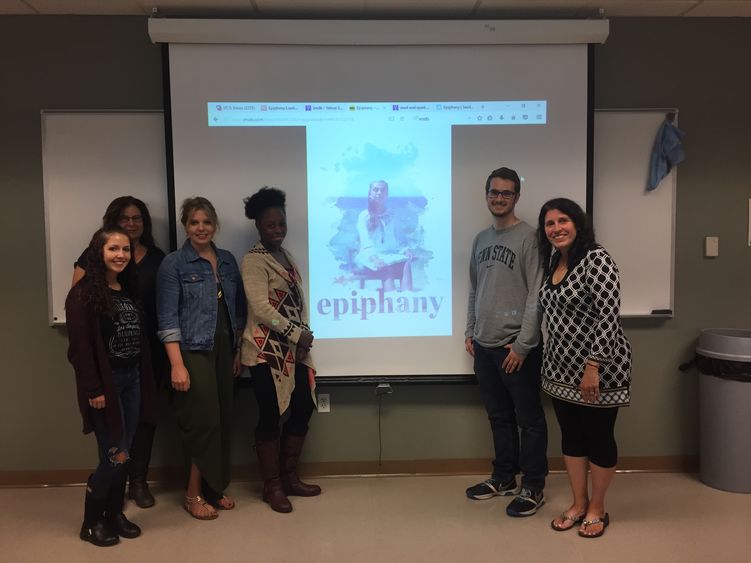 CENTER VALLEY, Pa. — Katina Sossiadis, former Penn State Lehigh Valley instructor in film, presented to students from Intro to Arts Administration on Sept. 14. She discussed her current project, the feature film "Epiphany," which she wrote and directed with her sister, Koula Sossiadis Kazista. Sossiadis has taken the year off from teaching to work fully on the film.
The film follows the story of Luka, a young girl desperate to connect with her negligent father in a Greek sponge diving town in Florida. While also struggling in her relationship with her pill-addicted uncle, Luka befriends an older man and slowly uncovers her family's mysterious past. "Epiphany" is a story of familial love. This story lives on the sea and in the hearts of simple, hardworking people who struggle to maintain the important traditions of the past while striving for happiness in the present moment.
"As young adults, inspired by our personal experiences, we developed a script showcasing the town of Tarpon Springs and the intricacies of this small, tight-knit community and its extraordinary
commitment to preserving Greek tradition. Growing up with a Greek immigrant father, it was the only place that our father became fully alive, where he felt like he was home again," said writer-directors Sossiadis Kazista and Sossiadis. "'Epiphany' is the next phase of our love story. Set around the transcending Epiphany celebration, which is an experience so cinematic and beautiful that it begs to be on screen, 'Epiphany' is a character-driven tribute to the traditions, culture and struggles so unique to Greek-Americans."
"Epiphany" filmed in Tarpon Springs, Florida, this summer for 22 days. This film will be produced by Meritage Pictures, Jane Kelly Kosek. The company hopes to complete the film in 2018.
Sossiadis attended the University of Pennsylvania and graduated with a master's degree in fine arts. She moved to New York City where she worked at the Guggenheim Museum for director Tom Krens. She studied film at New York University's School of Continuing Educations. In addition, Sossiadis trained with acting/directing coach Andrienne Weiss. She also worked in the production side of the film industry, by working on "Far From Heaven" starring Julianna Moore and "Analyze That" starring Robert DeNiro.
In April 1999, Katina wrote and co-directed a short film entitled "Lynn's Wake" with her sister. The film was accepted and well received at several film festivals, such as the New York Independent Feature Film Market, the Austin Film Festival, the National Short Film Festival in Drama, Greece, and the 22nd International Women's Film Festival in Creteil, France.
In 2007, Sossiadis completed a documentary entitled "Virgins of New York," which had success being part of several festivals such as the Black Maria Film Festival, Coney Island Film Festival and Reel Women International Film Festival. Last May, she directed her first play by David Mamet entitled "American Buffalo." She also was an associate producer on Dan Roebuck's "Getting Grace."
Contact
Dennille Schuler
Public Relations Specialist
Penn State Lehigh Valley