Commission for Women Scholarship Award winners announced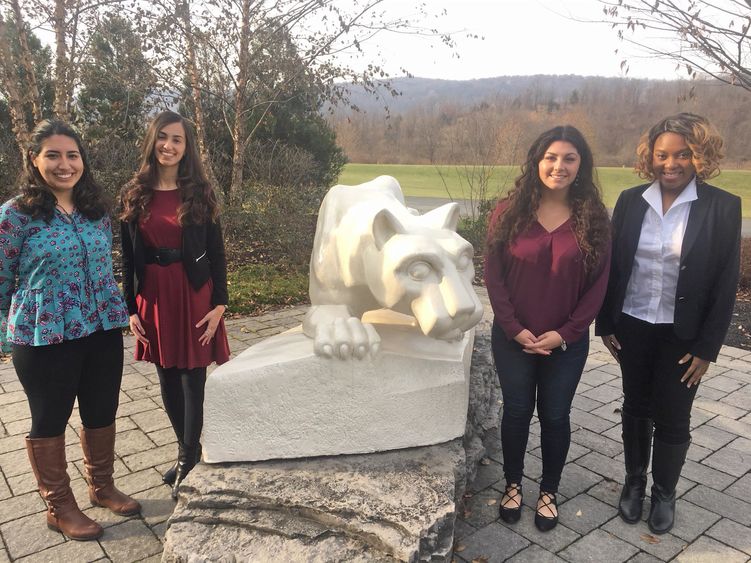 The Penn State Lehigh Valley Commission for Women awarded scholarships to four Penn State Lehigh Valley students earlier this month. The recipients were selected by the scholarship committee of the Commission for Women for their demonstrated leadership and accomplishments on campus and/or in their local communities. Each student was awarded a $500 scholarship. Lehigh Valley faculty or staff members were invited to nominate a student for this award. The nominees then had to submit an application detailing their achievements
"Historically, the Lehigh Valley Commission for Women Scholarship issued one scholarship award per year. Over the past several years, the scholarship fund proceeds continued to grow due to generous contributions from local businesses and the campus community during our Holiday Party Silent Auction. As a result, we are able to provide the award to nine students during this year," said Eileen Grodziak, co-chair of the Penn State Lehigh Valley Commission for Women with Teresa Kistler. "I have to give credit to Sandy Kile for spearheading the commission's efforts through the silent auction fundraiser during the last three years. It was a direct result of her leadership and the efforts of all of the commission members that we are able to present multiple awards this year."
The Penn State Lehigh Valley Holiday Party on Dec. 15 will feature a silent auction benefiting the Commission for Women and the scholarships that the Commission distributes to worthy PSU-LV students.
The four students who received a Commission for Women scholarship this fall included:
Shanice Clarke, senior health policy and administration (HPA) major
Clarke is an officer and charter member of the HPA Society on campus. She and her mother started a fundraising initiative at the long-term care facility where her mother works to raise money to support those affected by hurricanes and recent natural disasters. Together, they raised more than $5,000.
"By receiving this scholarship, it means that I'm upholding my family's values. In Jamaican culture, we believe you should give back to others to get it back tenfold," said Clarke. "I plan to use this scholarship for school loans."
"Shanice is a determined and promising leader. As both a student and a citizen, she has shown involvement in a variety of activities that exemplify her ambition and skills," said Anita Yuskauskas, assistant teaching professor and HPA program coordinator.
Saima Farooq, senior information sciences and technology (IST) major
"I am so appreciative that I am at a campus that encourages and rewards community service. I hope that this recognition will help myself and my fellow winners to make even more of a difference in our communities," said Farooq. "I will put the scholarship award toward textbooks."
"Saima's commitment to service and human causes is only one of her amazing qualities. Saima's passion for refugees is inspiring. She has gone to great lengths to help families and continue relationships even when distance and communication thwart her efforts. She is a stellar example of what one person can do to help others. Despite the pressures of her senior year, she makes time to bring attention to the refugee cause to others," said her nominator Kate Morgan, director of virtual education.
Farooq is active with the media organization TED. She is also an adult learner mentor to fellow adult learners.
Joselyne Mera, a sophomore security and risk analysis major
Mera serves as vice president of the Lion Ambassadors and as director of communications for the Blue and White Society. She has volunteered for the Sixth Street Shelter's Adopt-an-Apartment program and at the Catasauqua Public Library.
"Joselyne distinguished herself as a student in my communication course because of her grit and work ethic. She is a hardworking, modest, determined and extremely intelligent young woman who has contributed to Penn State Lehigh Valley in impressive ways," said Nichola Gutgold, professor of communication arts and sciences.
"I've worked very hard the last few years to make a difference in communities both here at Penn State Lehigh Valley and in my community so it means a lot to be recognized for that," said Mera. "I will apply this scholarship to books and my tuition bill."
Selena Nazario, senior rehabilitation and human services (RHS) major
"Selena spearheaded the re-establishment of the RHS club and currently serves as president of the club. In the short time the club has been in existence, Selena has provided leadership, time and effort facilitating club fundraising and service efforts," Leigh Cundari, assistant teaching professor and program coordinator for the RHS program, said in her nomination letter for Nazario. "Her compassion, thoughtful and caring demeanor and commitment to helping others makes her a wonderful candidate for this award."
Nazario also recently volunteered in the Sixth Street Shelter's Adopt-an-Apartment program and she helped organize fundraisers for Hurricane Harvey relief in Texas and Hurricane Maria relief in Puerto Rico, among other contributions.
"It means a lot to me to be recognized for helping others, that's my passion and why I got into the RHS major," said Nazario. "I plan to use the scholarship towards my last semester tuition fees."
Contact
Dennille Schuler
Public Relations Specialist
Penn State Lehigh Valley