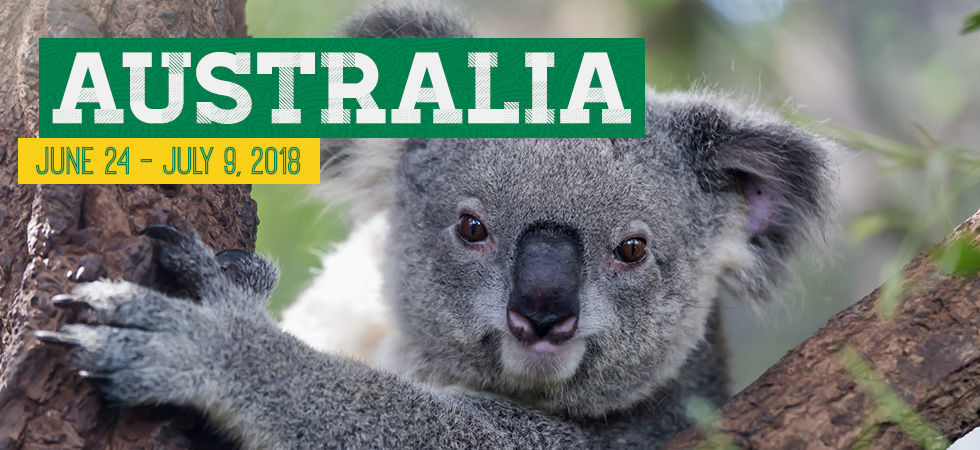 CENTER VALLEY, Pa. — Penn State Lehigh Valley's CHANCE (Connecting Humans and Nature through Conservation Experiences) program is accepting applications for its summer 2018 program, which includes travel to North Queensland, Australia. This two-course embedded international program and application submission information can be found on the CHANCE website. The application deadline is March 30.
The 2018 CHANCE Australia program consists of the following courses: BIOL 296 or 496/SUST 495: Sustainability and Conservation: Citizen Science and Service Learning in Australia (online), and BIOL 296 or 496/SUST 495: A Field Practicum in Australia. The first course takes place online during the second eight weeks of the Spring 2018 semester. The summer practicum dates are June 24 to July 9.
The classes are taken together, but sequentially, and allow students to earn credits and hours in biology or sustainability that will prepare them to better understand environmental protection, conservation and the sustainability of some of the most diverse and remarkable ecosystems in the southern hemisphere.
Participants in this embedded field program will complete pre-trip, online assignments to prepare them for a two-week field practicum. The practicum includes field research; citizen science projects; and service learning with James Cook University (JCU) research faculty and graduate students, field scientists from the Australian Wildlife Conservancy, Queensland Parks and Wildlife Service, as well as the Great Barrier Reef Marine Park Authority. Field work will focus on the conservation biology and sustainability of the Australian Wet Tropics (tropical rainforests), Great Barrier Reef, and the dry sclerophyll forests and open woodlands ecosystems in North Queensland. Some highlights of this program include research with the JCU Turtle Health Research Team on sea and freshwater turtle health and viral outbreaks, participation in the Great Barrier Reef Monitoring Program, a Koala Population Survey Project on Magnetic Island, a Nywaigi Aboriginal culture experience, platypus spotting, and an eco-retreat on the edge of the Outback.
CHANCE creates innovative informal learning environments – international field courses and online research modules that immerse students and instructors in authentic, interdisciplinary research experiences and conservation efforts. It was conceived in 2004 to meet the demand for innovative and more effective biology education, and established through an initial partnership with the Pennsylvania Department of Education (PDE) and Penn State Lehigh Valley (PSLV). It has since gained over 45 global partners (from industry, private sector, academia, etc.), with 18 international programs, run in 6 countries, with 460 students, 252 teachers resulting in 92 student presentations, 5 student awards, 4 high school awards, and 6 program awards. It has also produced 7 online modules that are freely accessible and are in use in educational settings and by citizens throughout the world (several years reaching over 10,000 individuals per year).
The program strives to connect people to nature through real-world experiences that incorporate scientific concepts, techniques, data and interpretations so they can construct their own understanding of their local landscapes and better effect change that will sustain the planet's biodiversity.
For more information, contact Jacqueline McLaughlin, associate professor of biology and founding CHANCE director at Penn State Lehigh Valley, at [email protected].
Contact
Dennille Schuler
Public Relations Specialist
Penn State Lehigh Valley