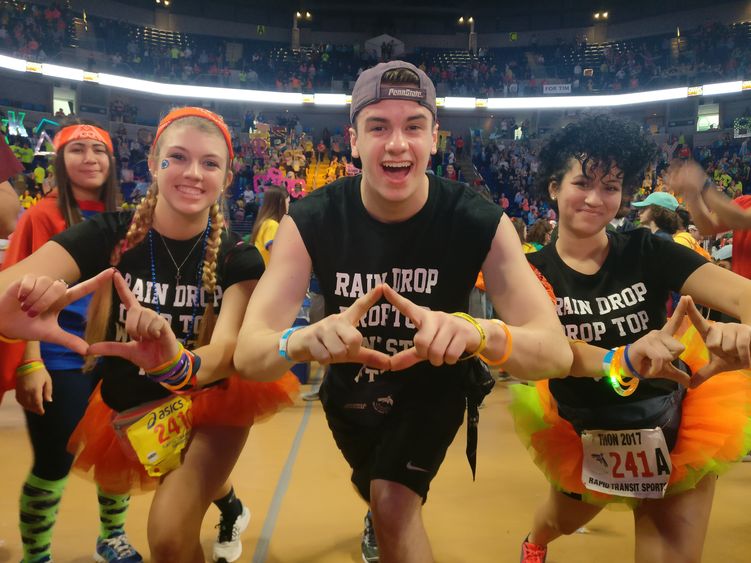 UNIVERSITY PARK, Pa. — It's been a year-long whirlwind of fundraising and fun "for the kids," as Penn State's THON gears up for the grand finale — its dance marathon — beginning at 6 p.m. on Feb. 16 in the Bryce Jordan Center (BJC) on the University Park campus. The year-long fundraising effort ends this weekend when more than 700 recognized dancers put their stamina to the test, but the endeavor is so much more than this final dance. 
"THON Weekend is so much more than just the 46 hours spent in the BJC," said Haley Staub, public relations director for the Penn State IFC/Panhellenic Dance Marathon. "It is a culmination of the year-long efforts of over 16,500 student volunteers, 25,000 alumni supporters, partners, doctors, nurses, researchers and Four Diamonds staff who have supported THON in its mission to take action in the fight against childhood cancer. This weekend is a celebration of our heroes, giving them the opportunity to just be kids and forget about their treatment, even if it's just for the weekend, and a testament to the power of a community dedicated to 'Discovering Tomorrow's Wonder.'"  
THON weekend will run from 6 p.m. Friday, Feb. 16, through 4 p.m. Sunday, Feb. 18, in the Bryce Jordan Center to raise funds for Four Diamonds. Since 1977, Four Diamonds, a charity for kids with cancer at Penn State Health Children's Hospital, has been the sole beneficiary of funds raised through Penn State's THON.
Activities during the weekend will include a kids' fashion/talent show; athlete hour and pep rally with Penn State athletes and Four Diamonds children; stage acts and speakers; the line dance; and much, much more.
Some of the other events during the past year have included the THON 5K, Harvest Day, donations benefiting Wigs for Kids, THON sports games, the "Road to THON" celebration, and many other related activities and fundraising events.
From beginning to end, THON weekend will be livestreamed through 46 Live.
To donate to THON, the largest student-run philanthropy in the world, go to donate.THON.org.
Parking changes will be in effect before, after and during THON.