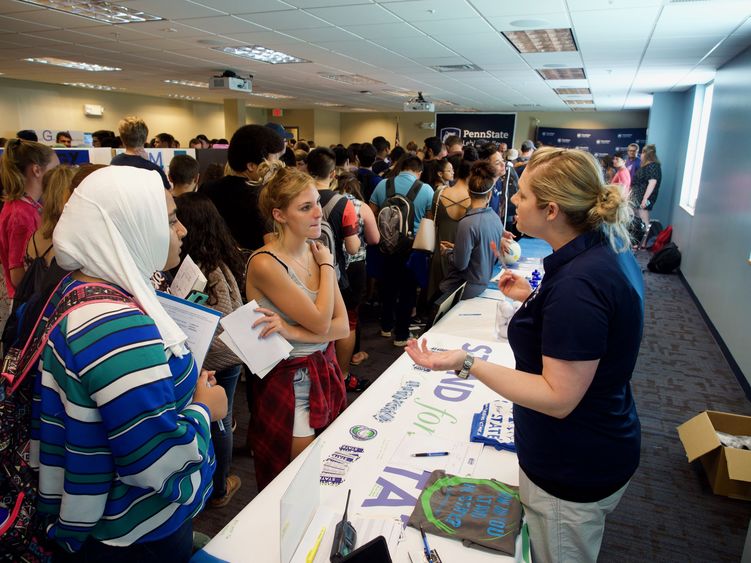 CENTER VALLEY, Pa. — Penn State Lehigh Valley students learned about campus clubs and organizations at the fall Involvement Fair from noon to 1:30 p.m. on Wednesday, Aug. 29. The fair took place in Centre Hall and Room 135 at the Lehigh Valley campus.
The Involvement Fair gives various club representatives the opportunity to share information about their clubs with fellow students to encourage student involvement. Students were able to visit the different tables of clubs that interested them and obtain information about the purpose of the clubs and how to join. While learning about clubs, students enjoyed walking tacos, popsicles, and music by John Cabrera.
"This is one of the most important events of the year to start the semester. It sets the tone of the school year and gives students the opportunity to meet others and learn about the many ways to get involved on campus in different clubs and groups," said Pam Fleck, assistant director of student affairs.
Some of the clubs and organizations that were represented at the Involvement Fair included the Communication Society, Glee Club, Campus Christian Fellowship, Adult Learner, Lion Ambassadors, Nittany News, and more.
"I chose to get involved because it strengths my communication skills by interacting with other people and it gives me more confidence," said Walter Roland, Penn State Lehigh Valley student and member of the Communication Society.
To learn more about the clubs and organizations at Penn State Lehigh Valley, visit the student affairs website.