Twenty youth girls visit Penn State Lehigh Valley to learn about engineering and the environment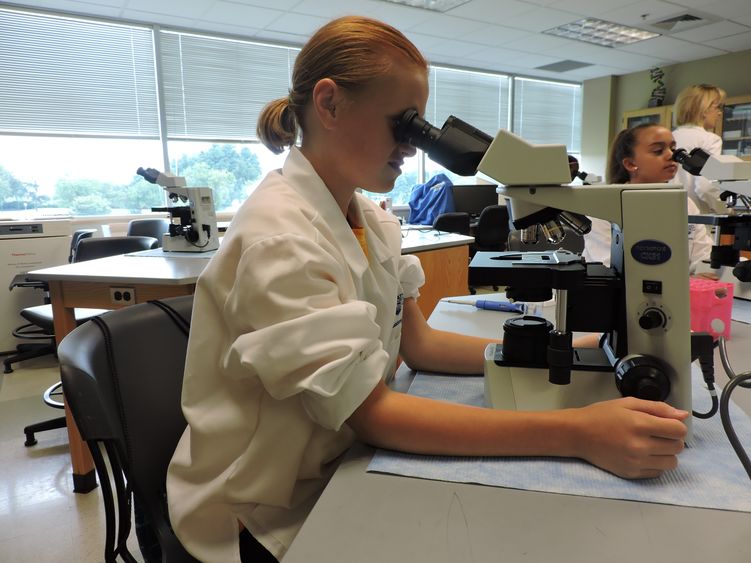 CENTER VALLEY, Pa. — What exactly is STEEM? That is what a group of 20 girls, ages 10 to 12, learned at Penn State Lehigh Valley. These girls were part of a camp hosted by the Lehigh Valley Workforce Development Board and supported by Bosch Inc.
The Bosch STEEM CareerLinking Academy is dedicated to teaching young girls about science, technology, engineering, the environment and math — or STEEM.
The group visited Penn State Lehigh Valley on Aug. 1 to learn what STEEM means on the Lehigh Valley campus. Their day began with a tour by Hiba Moussa, admissions counselor at Penn State Lehigh Valley, and two Lion Ambassadors. The group then visited the engineering lab, where Tracy Carbonetto, instructor in engineering at the Lehigh Valley campus, taught the campers about centers of gravity. The campers learned how to balance a soda can on an angle by changing the center of gravity with water.
The girls then stopped by a biology lab where Jacqueline McLaughlin, associate professor of biology, taught them about algae, biofuel and how to look at cells through a microscope.
One of the students, Serenity Kiss, said she really enjoyed seeing the biology lab. She counted 180 algae cells on her microscope slide and she shared her aspirations about wanting to be a doctor.
"I like to help people," said Kiss.
Her fellow campers also attempted to count the algae, trying methods such as naming the cells after Harry Potter characters to remember which one was which.
"We wanted to expand the girls' knowledge of everything they can be," said Cindy Evans, youth program director at the Lehigh Valley Workforce Development Board. "We say you can be anything you want to be and end the conversation there. They can be anything they want to be in biology or physics. They can study cells or engineering. That is what they need to know."
Bosch STEEM CareerLinking Academies are aligned to the Pennsylvania Academic Standards for Career Education and Work and are designed to develop a future workforce pipeline in high demand, high growth industries such as manufacturing.