Two of Lehigh Valley's own Women Trailblazers shared their journeys and actionable advice within the health care and medical fields on April 11.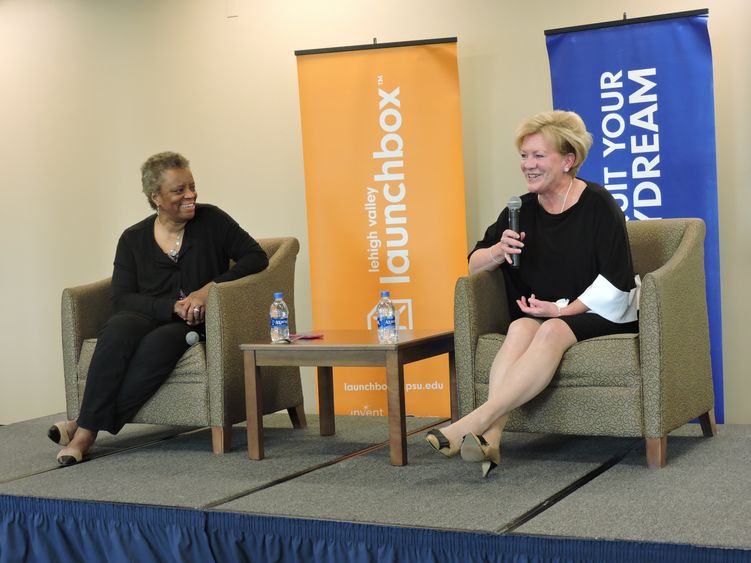 "I had an epiphany in 10th grade because I had a teacher who presented biology in such a boring way. And I saw life and science as anything but stagnant, so this attracted me to study biology. I have always been interested in how things work."
-Vassie Ware, professor of biological sciences, has several roles at Lehigh University, including: co-director of the Howard Hughes Medical Institute (HHMI) Undergraduate Bioscience Program and co-director of the Distance Master's Degree Program in Molecular Biology.
"My path was anything but a straight line. I have learned from the twists and turns. Use the data from the twists and turns for your next positive and productive step."
- Kathryn C. Worrilow, founder and CEO of LifeAire Systems. She served as the scientific director of in-vitro fertilization programs for more than 20 years and her work led to the development and design of the LifeAire Systems patented air purification technology and System, Aire~IVF.
More than 70 community members, students, faculty and staff came to hear the panelists speak at the event hosted by Lehigh Valley LaunchBox (LVLB). Women Trailblazers: Health Innovations and Research was the theme for the April "LaunchBox Ladies: From Passion to Profit" event held April 11 at the Penn State Lehigh Valley campus. The panelists were interviewed by Teri Haddad, business development director at Penn State Lehigh Valley.
Upcoming LaunchBox Ladies events include:
Thursday, June 6
"Toasting Entrepreneurial Success" featuring a panel of female LaunchBox grant recipients. Black River Farms will provide their wine as we "toast" our grant recipients.
Doors open at 4:30 p.m.
Program starts at 5 p.m.
Lehigh Valley LaunchBox is a signature program of the Invent Penn State initiative. In addition to the LaunchBox Ladies speaker series, LaunchBox provides co-working space, accelerator programs, microgrants, legal and IP advice and mentorship to help early-stage entrepreneurs de-risk and accelerate their businesses. For more information, visit the Lehigh Valley LaunchBox website, email [email protected] or email Elaine Thode at [email protected].
Contact
Dennille Schuler
Public Relations Specialist
Penn State Lehigh Valley