Penn State regional human resources consultant is honored for her community service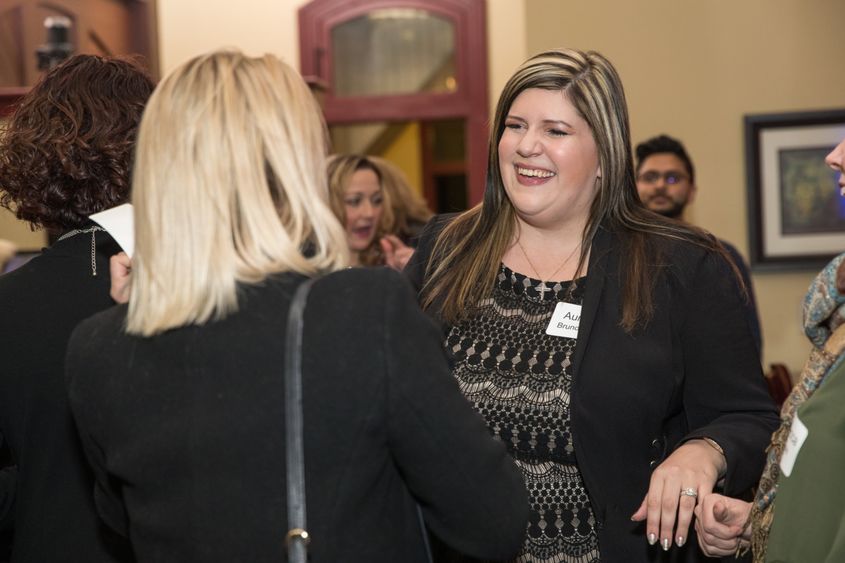 CENTER VALLEY, Pa. — David Lewis, president of the United Way of the Greater Lehigh Valley (UWGLV), presented Penn State's Aurora Brunovsky with the 2019 Volunteer Service Award at Breakfast for Champions, hosted by The Volunteer Center of the Lehigh Valley on April 10.
"As co-chair of United Way's Emerging Leaders, Aurora is a perfect example of young philanthropy in action. She is truly one of tomorrow's leaders – leading today," said Lewis.
Brunovsky is a human resources professional who currently serves as a regional human resources (HR) consultant for Penn State. She has an additional 12 years of HR experience as an executive team leader of Human Resources and executive and district HR trainer for Target Corporation, works per diem as an HR business partner for Higher International Human Resources LLC and also served on the Global HR team for Cenduit LLC.
She is active in the Lehigh Valley community and has served in numerous capacities for organizations including United Way of the Greater Lehigh Valley and The Northeast Chapter of the Cystic Fibrosis Foundation. In 2013, Brunovsky co-founded the annual Give Back Lehigh Valley Charity Softball Tournament, which has raised $40,000 for local organizations such as the Cancer Support Community of the Lehigh Valley, The Cystic Fibrosis Foundation, the Nam Knights, Logan's Heroes Animal Rescue and the Center for Humanistic Change.
Brunovsky was nominated by UWGLV to receive the Lehigh Valley SUITS Emerging Leader Award in 2014, raised $15,000 for the Cystic Fibrosis Foundation as a Finest Under Forty Honoree in 2013 and was named Best in Community by Target Corporation in 2012. Annually, Brunovsky enjoys joining the Holiday Hope Chest Campaign for The Volunteer Center of the Lehigh Valley and has helped collect over 500 Hope Chests with her husband, friends and family.
Brunovsky holds a bachelor of arts in applied psychology from Penn State and a master of science in community counseling from The University of Scranton. She is the creator and operator of TheWeeklySparkle.com, a positivity-promoting website that encourages individuals to become their best selves and to give back to others. Brunovsky resides in Bethlehem, Pennsylvania, with her husband, Joe.
We recently interviewed Brunovsky about her community service:
UWGLV: What does receiving this award mean to you?
Brunovsky: When I think about receiving this award, the first word that comes to mind is gratitude. I've had such an amazing relationship with UWGLV over the years, and this award helps me to see how much they value and appreciate their volunteers. I will use this award as motivation to keep pushing forward and spreading the message on all of the amazing things UW does for our community. Not only does UW give back each and every day, but they also take a moment to thank those who help support and drive their mission. 
UWGLV: How has volunteering made an impact in your life?  
Brunovsky: Volunteering has been a part of my life for as long as I can remember. Some of my purest and greatest feelings of accomplishment have come from volunteering my time and helping people in my community. Volunteering has always and will always be a bright spot in my life. It's led me to meeting amazing people, offered me experiences I never thought I'd have and continues to keep me humble and grateful for the blessings in my life. It's allowed me to feel a higher sense of purpose and that I'm leaving a small footprint in the lives of others. 
UWGLV: What is your favorite part about working with United Way of the Greater Lehigh Valley?
Brunovsky: UWGLV is the real deal. There are thousands of people in the Lehigh Valley who have significantly improved lives thanks to all of the incredible work UWGLV and their volunteers do each and every day. My favorite part about UWGLV is that they are a visible, positive force in our community, impacting folks no matter what part of the life cycle they are in. When you want to find goodness in the world around us, UWGLV is at the forefront. And how can you not get behind that?
UWGLV: What is your most memorable volunteering memory?
Brunovsky: A few years back, I was helping organize a holiday clothing and toy drive for local Allentown families who were identified to not have much to celebrate and enjoy during the holiday season. I had the opportunity to meet with some of the families. A little boy, about 4 years old, told me what was on his wish list. After listing things like socks, underwear and Spider-Man action figures, he told me it didn't matter because Santa won't be able to find their house anyway. He said that Santa only goes to houses with Christmas trees and uses the lights on the tree to know where to stop - since his family didn't have one, they'd be skipped this year by Santa. Through some last minute asks and a partnership with Target, we were able to get a lit and decorated Christmas tree donated to this family. Seeing the boys face as we walked into the house with the tree and then lighting it up, is a moment I will never forget. You cannot forget a feeling like that.
This story was republished with permission from the United Way. To view the original story, visit the United Way website. 
Contact
Dennille Schuler
Public Relations Specialist
Penn State Lehigh Valley