Penn State Lehigh Valley celebrated National Latino Heritage Month with Javier Avila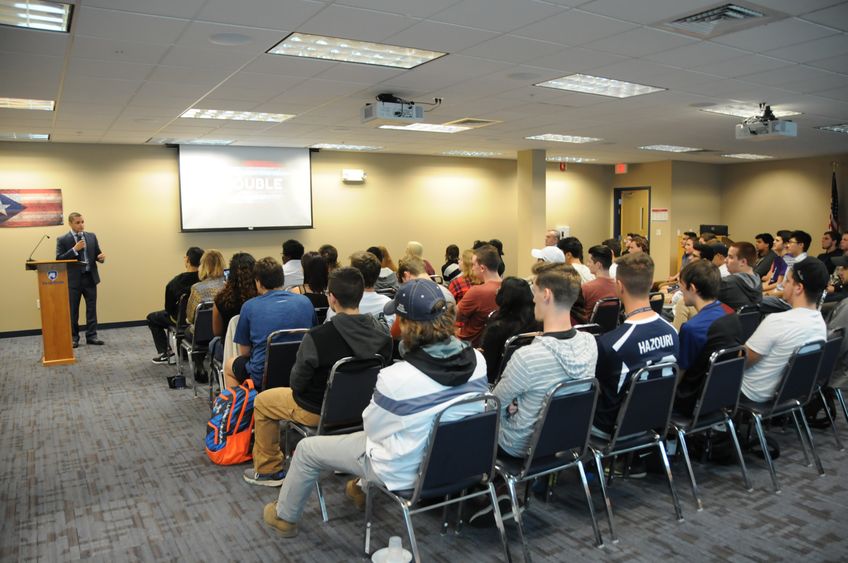 Javier Avila, English professor at Northampton Community College, came to Penn State Lehigh Valley to present to about 200 students, faculty, staff and community partners in celebration of National Latino Heritage Month on Oct. 4. His 60-minute show, "The Trouble with My Name," offered a glimpse into the American Latino experience. Avila offered his insight through his poetry readings and inspiring personal story to everyone in attendance.
"My mother and my passion to teach students at a young age allowed me to see my true passion in life, teaching and influencing those around me," Avila stated. "I want students to educate themselves on their cultures."
Through his poems, his humor and his autobiography, Javier took the audience to his childhood in Puerto Rico and his move to Pennsylvania. He examined the complexities of identity as a cultural construction. His moving poems shed light on his childhood, his teachings and his current life in the American-Latino culture.
Angela Jeon-Huh, global education and inclusive excellence consultant and a faculty member, organized this event to encourage students, faculty, staff and community partners to partake in National Hispanic Latino Month, which runs Sept. 15 to Oct. 15.
"I want students to learn about the educational differences, and cultural differences surrounding the Hispanic culture," Jeon-Huh said. "And I want students, faculty, staff and community partners to appreciate the Hispanic-Latino culture and all it has to offer."
Avila provided a doorway to a culture that everyone may not understand. These types of events are important to celebrate the diversity found on campus; about 36 percent of students at Penn State Lehigh Valley are multicultural and multilingual.
"All In at Penn State" is an ongoing University-wide initiative that brings students, faculty and staff together to show their commitment to cultivating a diverse and inclusive environment — respectful of everyone regardless of race, ethnicity, religion, age, sexual orientation, abilities, background, veteran's status, political beliefs.
"All In" events will continue throughout the year, including National Coming Out Week Oct. 10-14; LGBTQA Spirit Day on Oct. 20; Food and Entrepreneurship Series dinners; Native American Heritage Month in November; Veterans Day on Nov. 11; MLK Day of Service on Jan. 16; Black History Month in February; and more. The "All In" calendar is available online at: http://equity.psu.edu/allin-calendar.
Contact
Dennille Schuler
Public Relations Specialist
Penn State Lehigh Valley