Campus hosts Global Programs Fair and dedicates new Global Engagement Space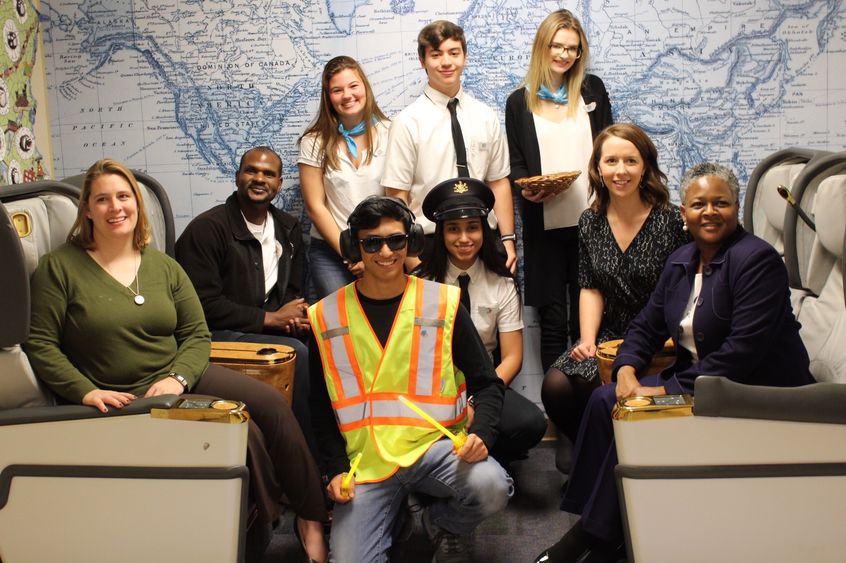 More than 150 students, faculty and staff learned about multiple opportunities to study abroad while attending the Global Programs Fair on Oct. 18 at the Lehigh Valley campus. 
"If you have a desire to study abroad, you should really take the chance. You never know the opportunities that may develop by networking with potential employers and students internationally," said Matthew Clifford, sophomore engineering student at Penn State Lehigh Valley, who presented about his own experience at the Global Programs Fair.
Representatives from University Park's Study Abroad Office presented on various global programs and opportunities for students, faculty and staff. Penn State Lehigh Valley faculty who are leading course embedded study abroad programs also presented about upcoming programs. The Global Programs Fair also featured peer study abroad panel discussion featuring student participants who answered people's questions about their experiences. In conjunction with the theme of the program, an internationally themed lunch was served featuring Chinese, Mexican and Italian cuisine. The event was organized by Angela Jeon-Huh, global education and inclusive excellence consultant at Penn State Lehigh Valley. It was sponsored by Global Education and Inclusive Excellence office, Penn State Lehigh Valley's Student Business Society, and the University Park Study Abroad office.
During the event, a ribbon cutting ceremony was held to dedicate the new Global Engagement Space on campus, located on the second floor next to the student lounge.
The space features four luxurious first-class seats accompanied by a map of nations that were established in 1891. Students from Sandy Kile's first-year seminar served as an airline pilot, air traffic controller and a flight attendant during the ribbon cutting ceremony to bring the travel theme to life.
To the right of the space, a whiteboard is mounted on the wall, where students, faculty and staff can openly discuss the subject of international travel and add suggestions for improvement to the space. All who participate are encouraged to respect the conversations of others as the space seeks to develop a mutual understanding of the world we all share.
The goal of the space is to encourage students to participate in study abroad trips and to stimulate conversations about current global opportunities. In addition, it aims to empower students to network and develop an understanding to recognize people of different nationalities and cultural practices.
"This topic is important to me because of the impact that my own global educational experiences, first as a Fulbright Hayes Scholar in Ghana and then when I led trips abroad for students, had on me," Tina Q. Richardson, chancellor of Penn State Lehigh Valley said, while dedicating the new space. "And now at Penn State Lehigh Valley, I want to encourage global experiences for our students and I also want to celebrate the more than 37 nationalities represented on our campus." 
"We were incredibly impressed with the student attendance and engagement throughout the tabling and presentations at the Global Programs Fair," said Kate Manni, assistant director of faculty-led programs and special initiatives at Penn State University. "We are also thrilled Lehigh Valley students will have unique opportunities for engagement within the new, beautiful space!"
The space was created through the collaboration of students, faculty and staff, and is still evolving.
"We will post questions on the discussion board to the right of the space to elicit comments and suggestions on various topics, such as which countries students would like to travel to and more," said Mike Krajsa, assistant teaching professor of business at Penn State Lehigh Valley. "In addition, we seek recommendations from our students, faculty and staff on how to improve this experience."
People with suggestions to further enhance and amplify the space, should contact Krajsa at [email protected]. 
Contact
Dennille Schuler
Public Relations Specialist
Penn State Lehigh Valley