Chancellor Tina Q. Richardson, campus and student leaders answer questions and provide more information around return to campus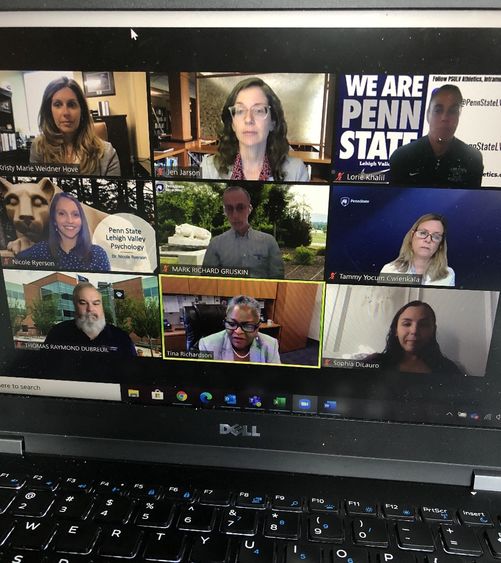 Penn State Lehigh Valley campus and student leaders hosted a virtual Town Hall on Aug. 18 to provide updates and answer questions from students and their families.
The live event was hosted by Penn State Lehigh Valley Chancellor Tina Q. Richardson. She welcomed everyone, reminded attendees to regularly check the Penn State Lehigh Valley website and social media for updates and invited attendees to share concerns and/or questions in the chat feature. Joining her were key faculty and staff members and student leaders, including:
Nicole Ryerson, assistant professor of psychology, who reviewed the mixed modalities offered, the availability of the advising team and Learning Center to support students, and reminded students to check LionPath and CANVAS for schedule updates.
Jennifer Jarson, head librarian, who reviewed library procedures, spaces to zoom classes on campus
Sophia DiLauro, president of Student Government Association, who discussed benefits of getting involved on campus and encouraged students to get involved in the wide variety of clubs and organizations.
Sunjana Mishra, vice president of Student Government Association, who encouraged students to attend the involvement fair as new students to find things that interest them and meet people.
Lorie Khalil, coordinator of athletic programs and head women's basketball coach, who shared updates about the fitness center and new policies for signing-up to use the gym.
Tammy Yocum-Cwienkala, coordinator of counseling services, who reassured students about the resources campus has to help students be successful this year. She discussed the campus nurse's role relating to COVID on campus, and how she as campus counselor supports students who feel overwhelmed and/or are battling with anxiety, depression and other issues.
Tom Dubreuil, director, student affairs, who reviewed the student compact, mask protocols, Lion's Den hours and plans for many student activities on campus and virtually. Dubreuil invited students to follow social media accounts and check their email for frequent updates.
After each guest spoke, Richardson described the Penn State Go App and reminded students to download it before coming to campus. She reviewed the pre-arrival COVID testing program for students from identified areas with a higher prevalence of coronavirus and those who will be on the front lines to welcome and work with students. She closed the event by inviting questions from attendees.
"You, our students, are part of a historic moment for the country and the world. You are living through a pandemic and continuing your education career at a time that is most challenging," Richardson said. "As a result, you are going to learn how to optimize persistence and resilience and learn how to be more innovative than ever before. And you're going to have the opportunity to rock this! We are here to support you."
For a review of details shared during the event, visit the virtual Student Town Hall recording webpage to watch the full event.
Contact
Dennille Schuler
Public Relations Specialist
Penn State Lehigh Valley