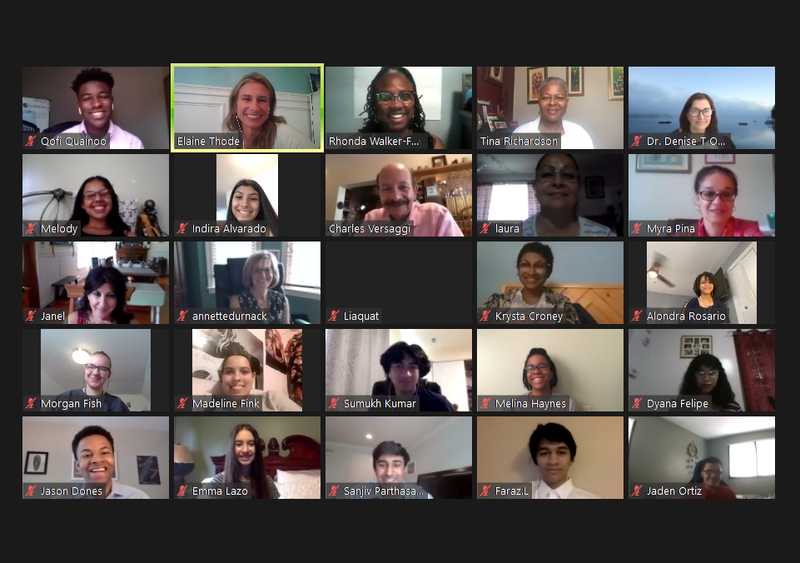 Penn State Lehigh Valley hosted its fifth annual Teen Entrepreneur Challenge (TEC) summer program, which is an initiative of Lehigh Valley LaunchBox. TEC ran from July 6 to 16, exposing 25 rising sophomore, junior and senior high school students to the fundamentals of entrepreneurship as well as important technology skills.
While traditionally a residential program, TEC went entirely virtual this year, using Zoom to deliver instruction, guest speakers, field trips and group breakout sessions. Faculty and business leaders provided teaching as part of the curriculum. This year's program was sponsored once again by Bosch Rexroth and Victaulic. Lehigh Valley Health Network/The Pool Trust also joined in as sponsors this year and with them brought a new twist. This year's cohort was tasked with identifying relevant public health concerns, developing and recording a public service announcement (PSA), and finally creating a business solution to address their selected public health concern. These PSAs, to be aired throughout the Lehigh Valley in the near future, addressed topics such as mental health awareness, increasing voting in youth, vaping, eating disorders, texting & driving, and addressing the reliance on fast food in low-income neighborhoods.
The virtual program was well-received by this year's students.
"I really enjoyed the program and meeting new people! This program helped me to learn more about myself and the real world," said one TEC student.
Another TEC student said, "What I liked the most about this Teen Entrepreneur Program was the opportunities that were given to learn more about businesses and how they function in the real world. I also enjoyed the speakers that came on and the different perspectives they gave. Putting together the PSAs and pitches was also a great time!"
"Sixty-nine percent of teens say they have a business idea but unfortunately most don't know how or lack the confidence to get it off the ground. That's opportunity missed – which is why I am so proud of the teen students here today who are acting on their dreams – not only participating in the camp, but competing in our Teen Entrepreneurial Challenge," said Tina Q. Richardson, chancellor at Penn State Lehigh Valley, at the pitch competition held July 17. "As a teen, it would have been easy to take the sleep-in approach to their summer days – especially during a pandemic, but these students are keeping their skills sharp."
At the end of the challenge, an online pitch competition was held where teams presented their business solutions to a panel of judges. The winning team was Team Produce, which is a company the students created to bring healthy food options to low-income neighborhoods that rely on fast foods to feed their families. The second-place team created an app as a solution to increase mental health awareness among teens.
The winning team included: Melina Haynes, a rising junior at Notre Dame High School; Melody Herrera-Garcia, a rising junior at William Allen High School; Jocelyn Ibarra, a rising senior at Easton Area High School; and Sumukh Kumar, a rising senior at Caravel Academy.
"I am very impressed with how well this course was organized. Being a health care provider, I feel that all the topics were well chosen for the current day problems and extremely well presented! Congratulations to the entire team and all the coaches that worked with the students," said Preethi Kumar, mother of one of the students from the winning team.
Robert Wolfe, instructor in business and economics at Penn State Lehigh Valley, coached the students during pitch development.
"I had a blast in discussing the students' PSAs with them. They were all great, very worthwhile proposals and I was very impressed at the thought that the students put into their proposal. When I signed off, I told the groups that they gave me a wonderful sense that the planet and our society will be even better off in the future. All groups of students gave me the gift of reassurance that every generation has higher ideals and goals than the previous one," Wolfe said. "I think our planet and the inhabitants will be safe in the future and my children and grandchildren will live in a better world because of the students I worked with yesterday. I left the meeting feeling good about our future."
This year the judges for the pitch competition included Richard Cory, human resources director, Bosch Rexroth Corporation; Lindsay Hamlin, lean manager, Victaulic; Edward Meehan, executive director, Rider Pool Trust Foundation; and Robert Thomson, regional manager, Ben Franklin Technology Partners of Northeastern PA & Ben Franklin TechVentures.
Contact
Dennille Schuler
Public Relations Specialist
Penn State Lehigh Valley