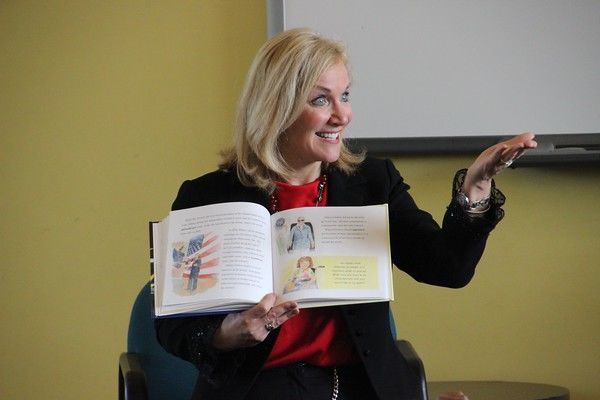 CENTER VALLEY, Pa. — Nichola D. Gutgold, professor of communication arts and sciences at Penn State Lehigh Valley, co-wrote a children's book with Jessica Armstrong, associate general counsel at St. Luke's Health Network, titled "Growing Up Supremely: The Women of the Supreme Court" (Eifrig Publishing).
In writing the book, Gutgold and Armstrong said they wanted to help young women readers to see the qualities of the four women on the U.S. Supreme Court in a way that will motivate readers to "think big, read more and become the women they want to be." The book is based on Gutgold's scholarly research. Previous published works include "The Rhetoric of Supreme Court Women."
"Growing up Supremely" features the lives of Supreme Court associate justices Sandra Day O'Connor, Elena Kagan, Ruth Bader Ginsburg and Sonia Sotomayor. It was illustrated by Karen D. Armstrong and Rachel C. Ferguson.
A book launch will be held from 5:30 to 8 p.m. on Friday, Feb. 21, at the Swain School, located at 1100 S. 24th Street in Allentown, Pennsylvania, with readings for the school students to be held earlier that day. The book launch is open to the public.
Gutgold and Armstrong also will be featured at TEDxLehighRiver's "Author's Alley" along with other local authors. The event will be held at 6 p.m. on March 10 at SteelStacks in Bethlehem, Pennsylvania.
Gutgold earned a bachelor of arts degree in English from King's College, a master of arts degree in speech communication from Bloomsburg University, and a doctorate of philosophy in speech communication from Penn State. In addition to her work with students, Gutgold is a distinguished researcher on the rhetoric of women in male-dominated fields, and on how all women can use their voices to lead the passionate causes they believe in. Her research has been featured in the New York Times, San Francisco Chronicle, LA Times, NPR, PBS and U.S. News and World Report.
Gutgold serves as vice president of the Literacy Center's Board of Directors and mentors students, especially those who are first generation, to help them expand their future goals. She recently received an Alumni/Student Award for Excellence in Teaching from Penn State, and was named a 2018 Penn State Teaching Fellow. She received the 2017 King's College Alumni Award for Professional Achievement. Last year, she was honored as a 2018 Woman of Influence by Lehigh Valley Business.
Contact
Dennille Schuler
Public Relations Specialist
Penn State Lehigh Valley