$14.4 million expansion project to include dining facility, student resources, STEM wing and organic chemistry lab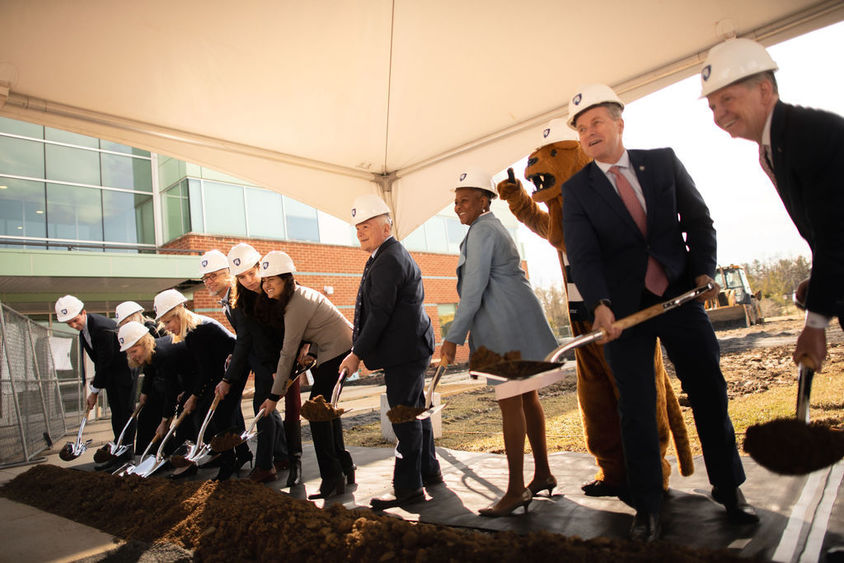 CENTER VALLEY, Pa. — A crowd of nearly 250 people gathered under a tent next to the south entrance of Penn State Lehigh Valley on March 4 to celebrate the groundbreaking of the campus' $14.4 million expansion project.
University dignitaries, project partners, donors, student leaders and the Nittany Lion turned over the first shovels of dirt to cheers and applause from the crowd, which included students, faculty, staff, alumni, board members, representatives from legislative offices and community partners.
To provide proper STEM-related facilities and accommodate future growth of the Penn State Lehigh Valley campus, the Board of Trustees Committee on Finance, Business and Capital Planning on Feb. 20 recommended a plan to expand the current campus building by 20,500 square feet. The proposal was approved by the full board on Feb. 21.
The three-story addition, which is targeted to open in January 2021, includes a new dining facility on the first floor, student service spaces on the second floor and a STEM wing on the third floor, including an organic chemistry lab. The STEM wing will support the campus' current health degree programs, allow the campus to grow a necessary educational pipeline for health professionals and provide more undergraduate research opportunities.
"Today marks the next important step in the evolution of the Penn State Lehigh Valley campus and the educational opportunities we bring to this region," said Tina Q. Richardson, chancellor, Penn State Lehigh Valley, who provided opening and closing remarks at the ceremony. "Every part of this expansion strategically aligns to the needs of our students and those of local employers." 
Penn State President Eric Barron attended the event and shared how this project will bring help to bring groundbreaking advances and opportunities to the students, faculty and community members who will teach, learn and collaborate in this new space.
"With this important new addition to the campus, Penn State Lehigh Valley is answering the new challenge of training a skilled workforce and fueling the wave of innovation underway," Barron said. "Given that healthcare is the largest employer in our region, the demand for workers with a background in science and technology is constant."
Barron then welcomed Hibah Akbar, Penn State Lehigh Valley Student Government Association president, to the podium.
"Coming from a pre-med major, this expansion will allow for more STEM majors to take classes like organic chemistry close to home," said Akbar. "But even if you're not in STEM, it'll open doors for further classes, majors, and conversations to be had about initiatives, education, and further diversification that is already being seen by our students."
PPL Corporation CEO Bill Spence, who along with his wife, Denise, are donors to the expansion project, then spoke about how the expansion will allow more students to remain in the Lehigh Valley to complete their degrees and help support the region's growing economy.
"And that's why today is so important – it's about expanding opportunity right here in our own backyard for the next generation of leaders, scientists, doctors and more," said Spence, who graduated in 1979 from Penn State's College of Earth and Mineral Sciences with a bachelor of science degree in petroleum and natural gas engineering.
Penn State graduate and former Congressman Charles Dent spoke about how he is from a family of Penn Staters and how his son benefited from the support he received at the Lehigh Valley campus when he attended.
"You are doing a great deal to strengthen the mission of this great university, it makes me so proud to be a part of this community," Dent said.
Dent graduated in 1982 with a bachelor of arts degree in foreign service and international politics and was the recipient of the "Friend of Penn State" legislative award in 2016 for the significant role he has played in the continued improvement of Penn State. He also received the Distinguished Alumni Award in 2019, which is the University's highest honor presented to its alumni. Dent currently serves as a political contributor for CNN and a senior policy adviser for DLA Piper.
Madlyn L. Hanes, Penn State vice president for Commonwealth Campuses and executive chancellor, said the expansion is transformational and well planned.
"Our students are at the center of this project; this will encourage leadership development that goes beyond the walls of the classroom," Hanes said.
The new addition is strategically placed next to the south entrance where it is highly visible from the main road, giving the building a new identity to passersby. The addition will showcase the inner workings through a two-story picture window. When entering the first floor, visitors will be able to access a light-filled full-service cafeteria that offers a place to eat, as well as a place to study or collaborate with others. The dining area will bring together students, faculty, staff and community members as it is equipped with large display screens and a portable stage for performances and presentations. The second floor will provide student services spaces and administration spaces. A classroom and organic chemistry room on the top floor offer a state-of-the-art STEM environment.
Spillman Farmer Architects and Alvin H. Butz Inc. were selected for the expansion project. The new expansion will be built collaboratively and offer new opportunities for student interns to work side-by-side with the construction team from Alvin H. Butz, Inc. 
Penn State Lehigh Valley will host the Charles W. Dent Blue & White Gala to benefit the STEM wing at 6 p.m. on Thursday, April 23 at Saucon Valley Country Club. The event will pay tribute to Charlie Dent for his years of service to the community. To support the gala through sponsorships or auction items, contact Pam Kiser, Penn State Lehigh Valley development office, at 610-285-5159 or [email protected]. For additional information visit the Charles W. Dent Blue & White Gala website.
Contact
Dennille Schuler
Public Relations Specialist
Penn State Lehigh Valley