Spots still available for Musikfest Marketing and Video camp in August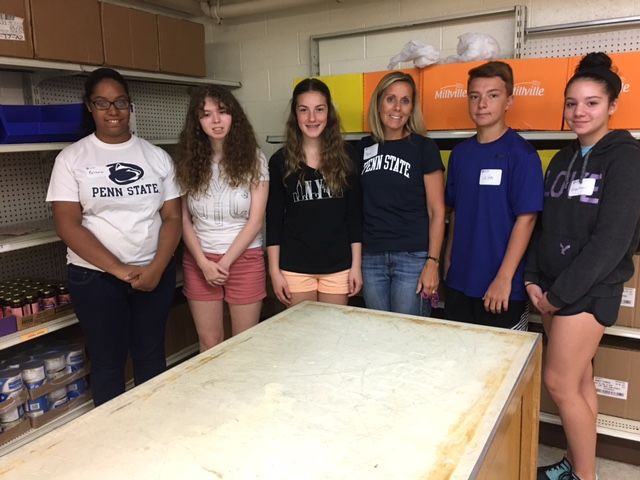 CENTER VALLEY, Pa. — Local high school students explored a career in public service last week during the Teen Summer Pathway Program: Be the Change at Penn State Lehigh Valley. Four teenagers made a difference throughout the Lehigh Valley by joining Penn State faculty in a week of classroom and service learning opportunities.
The Teen Summer Pathway Programs are new offerings from Penn State Lehigh Valley's Summer Youth Programs. They provide opportunities for high school students to engage in hands-on exploration of Penn State majors. Enrollment per program is limited to ten students. All three Teen Summer Pathway Programs are full-day and are geared towards students entering grades 9-11.
Be the Change was the Rehabilitation and Human Services (RHS) degree themed camp with a focus on community service.
The campers spent the week at multiple venues learning about the different aspects of community service. The first day they went to Lehigh Valley Health Network (LVHN) and met with Hilda Rivera from the Department of Community Health. The students learned about public health and the community health services offered by LVHN.
The rest of the week the students assisted with STEM and art enrichment activities at McKinley Community School's summer camp; engaged residents of Phoebe Home in Allentown at their annual summer picnic; and helped children from the Miracle League of the Lehigh Valley create paintings to be auctioned off at the organization's annual fundraising event.
"All of the sites we visited offered the students something unique and showed them the different aspects of a career in service. On Wednesday, we went to a food bank in Allentown. The students packaged food and had an opportunity to interact with the individuals and families who came to the food bank for assistance," said Teri Kistler, instructor in RHS and camp program coordinator. "The students said they really enjoyed that day and liked the feeling of helping others."
"Penn State Lehigh Valley's Teen Pathway Programs are designed to expose high schoolers to the amazing career opportunities Penn State Lehigh Valley's signature programs can open for them," said Doug Antonioli, director of the Penn State Lehigh Valley Writing Project. "Our Teen Pathway Programs are meant to give kids hands-on, real-world experiences in the majors they might choose to pursue. This allows students to explore their interests in an educational and engaging way."
The next Teen Summer Pathway Program is underway this week. The Makerbotics program will run from July 31 to Aug. 4 and will engage students in a design challenge using TinkerCAD software, 3D printing and Lego Robotics. Penn State faculty will be teaching this program as a practical introduction to robotic design and implementation.
The final Teen Summer Pathway Program is Capturing Musikfest, the Musikfest video and marketing camp for high school students, which allows campers to go behind the scenes at one of the largest music festivals in the nation, with a veteran television journalist, for a hands-on video production experience. New this year is a social-media marketing component, taught by ArtsQuest staff. The Musikfest Video camp will run 11 a.m. to 5 p.m. from Aug. 7-11.
Spots are still available — to register contact Doug Antonioli at [email protected] or 610-285-5239, or visit the Summer Youth Camp website.