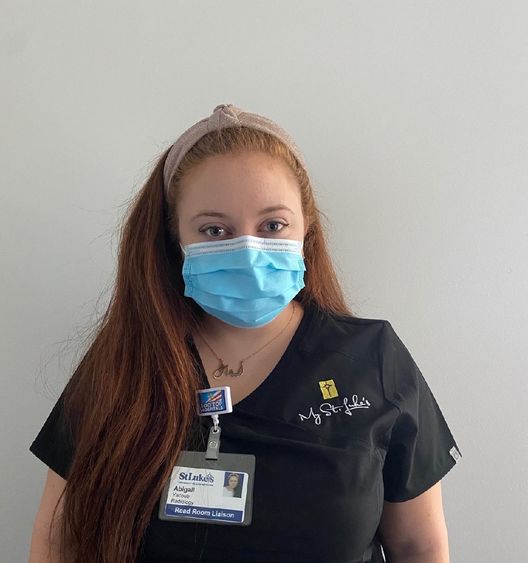 Three Penn State Lehigh Valley students majoring in biobehavioral health and working in health care talked to us about the impact of COVID-19 at their jobs.
Adrian Bachman is a nontraditional student who is working full-time at a senior living facility while she's taking one class each semester since 2018 to earn her degree.
At work, Bachman plans and implements activities for nursing home residents. The activities are designed to encourage socialization, provide entertainment, relaxation and fulfillment and improve daily living skills. In normal times, this is a hands-on job with lots of interaction with the residents but that has changed since COVID-19.
"The facility has had to adjust their activities and become more creative about how they do activities with our residents to keep them safe and healthy while practicing social distancing" Bachman said.
Since visitors are not permitted at this time, she is setting up video chats for residents with their family members and setting up sing-along songs with all of the residents participating on their phones. Due to social distancing, the activities staff is preparing worksheets and activity packets for the residents. She said their health and safety policies have been changing weekly, and sometimes daily, based on changing CDC and state guidelines.
"Every aspect of what I do in my job has changed with COVID-19," Bachman said. After graduation, her goal is to work in community health.
Abby Yacoub is a senior and will be graduating in December.
Yacoub is a reading room liaison in radiology, working part-time at St. Luke's University Health Network. She works in a room that is usually busy with up to 12 doctors reading all types of radiology scans from throughout the hospitals.
"Due to COVID-19, the reading room is quiet except for the computer and telephone that I use to communicate with the hospital emergency rooms and intensive care unit technicians and doctors requesting the scans and the radiologists who are working from home," Yacoub said.
While hospitals are permitted to handle emergencies only, she said there are fewer scans being done.
"My transition to remote learning has been fine because I've taken online classes before. Normally, for my electives, there would be lots of group work during class time, but with the change to remote learning, we've had more lectures during class time followed by assignments completed independently," Yacoub said.
She plans to get a master's degree and doctorate in epidemiology with a goal of working as an epidemiologist for the Centers for Disease Control and Prevention.
Jeanette Bautista is a junior and plans to graduate next May.
Bautista works in patient registration at St. Luke's Hospital – Warren campus in Phillipsburg, New Jersey. She said she is either registering patients at the Emergency Room desk or gathering registration information as patients arrive by ambulance.
"We're pretty geared up – that's a huge change. And, now we must treat all patients as potential COVID-19 patients. We have to be very cautious," Bautista said.
Despite the difficulty of being on the front line, there are some bright spots.
"The camaraderie of our group keeps me going. And our staff has received so many nice things — one of my favorites is some of the great food that restaurants have brought for us," Bautista said.
She has also experienced transitions in her courses as they were moved to remote delivery in March.
"My professors have been extremely understanding and very responsive to my email," Bautista said. "I'm staying focused because I need to get my education and finish my degree."
After graduation, she plans to continue her education and become a registered nurse. She would like to transition from her part-time patient registration position to a full-time nursing position at St. Luke's University Health Network.
"I am incredibly proud of my students as they remain dedicated to their vital roles within the health care community, while balancing their academic responsibilities in a new remote format," Samantha Beebe, program coordinator for the biobehavioral health program. "This focus and commitment to success in our 'new normal' illustrates their personal passion to truly making a difference in the health and well-being of others."