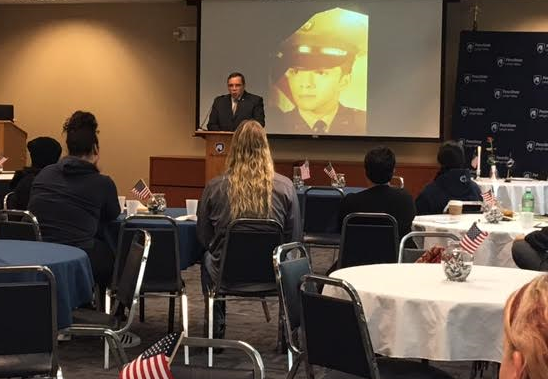 The Penn State Lehigh Valley Veteran Student Organization welcomed faculty, staff, students and community on Nov. 11 to celebrate Veterans Day. The Veterans Day celebration titled "Serving Country to Community" was a community open event to welcome all veterans in the area.
Aida Montanez, the veteran student organization president and a senior corporate communication student, welcomed the event's keynote speaker Pedro Anes to Penn State Lehigh Valley. Anes served in the U.S. Army and continues to serve on various councils to help the community grow for veterans. His presentation highlighted his time in the Army, his home life and how he currently serves and how we can all serve our country.
"I want people in the community to see that veterans are committed to service even though they may not be fighting a war. We are humans, and just because we stopped serving doesn't mean our service stops," said Montanez. "Inviting Anes provided an opportunity for awareness and acceptance for local veterans. We as veterans are no different than anyone else and we need to stand together as one."
"We need to have loyalty, honor, courage, respect and strength to perform our duties to our families, community or country," said Anes. "If we are to treat others as they should be treated, respect and dedication will follow."
Veterans dedicate their lives to service and those in attendance had the chance to hear personal stories of service. The community program encouraged students, faculty, staff and local community members to volunteer and make a change.
Contact
Dennille Schuler
Public Relations Specialist
Penn State Lehigh Valley