First-year students emerge as leaders at Penn State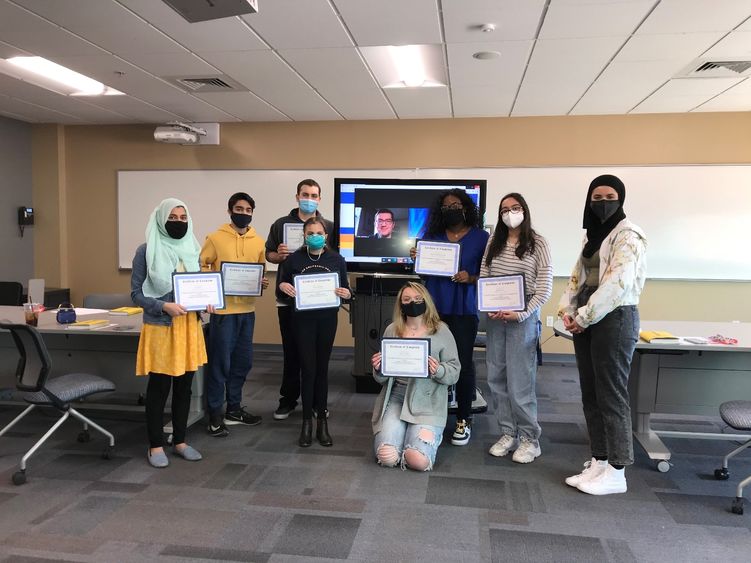 CENTER VALLEY, Pa. — Eight first-year students at Penn State Lehigh Valley just celebrated their completion of the Student Affairs-run leadership program, "LEAP: Leaders Emerging at Penn State." This cohort is the third group to finish the program, which was started in fall of 2019.
LEAP consists of six, 90-minute classes, offered bi-weekly with a focus on knowledge, skills and abilities beneficial to a new leader.
Students begin by assessing their personalities and leadership styles using the True Colors activity and the Strengths Quest tool. The next classes introduce communication styles and approaches. Students participate in hands-on activities, review case scenarios and take part in engaging discussions as they share and grow their leadership experiences. The final two classes focus on values and identifying skills needed by leaders, such as conflict management, group dynamics and delegation.
"LEAP has helped me understand that being a leader is not about being above anyone but viewing yourself as if you were on the same level as them and treating everyone equally," said PSU-LV student Francheska Almanzar Rubiera.
Although the pandemic brought about some challenges, the convenience of Zoom allowed the students to join virtually if they were unable to attend in person.
The cohort included the following first-year students:
Aemen Ali: Computer Science
Salmaan Bhimji: Mechanical Engineering
Tobey Field: Civil Engineering
Kaili Enslin: Psychology major, RHS minor
Peter Lambrinos: Electrical Engineering
Zara Riaz: Forensic Science
Francheska Almanzar Rubiera: Psychology
Rhea Kocchar said she feels that many of the concepts taught in LEAP will benefit her in the future.
"I learned so much from LEAP and I will utilize the communication skills that we learned. Moving forward, I'm confident that all the leadership skills that were taught will be useful in my upcoming years as a Penn State student," Kocchar said.
Marwa El-Ashry, a sophomore and LEAP participant in 2020, served as peer leader for the program. In recognition of their participation, each student received a Certificate of Completion as well as a copy of the book "This is Day One: A Practical guide to Leadership that Matters."
For more information on student leadership opportunities at Penn State Lehigh Valley contact Pam Fleck, [email protected].