'Living Sustainably Begins at Home' to be held on May 25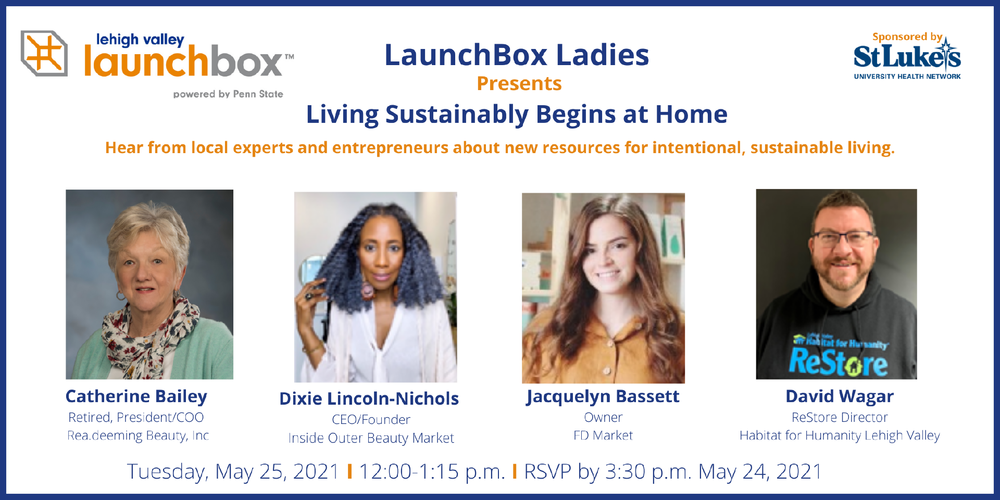 Lehigh Valley LaunchBox (LVLB) and LaunchBox Ladies at Penn State Lehigh Valley will present a two-part virtual program that focuses on new ways to live sustainably and help the environment. Part one will be held from noon to 1:15 p.m. Tuesday, May 25 and is titled "Living Sustainably Begins at Home." Attendees will hear from local experts and entrepreneurs who will introduce new resources for intentional, sustainable living. Part two in the series will be held from noon to 1:15 p.m. June 16 and is titled "Sustainability in Farm-to-Table Solutions."
This two-part program is being sponsored by St. Luke's University Health Network. Below are the experts who will be speaking at the event on May 25. Stay tuned for more information on part two.
Jacquelyn Bassett- owner, FD Market
Dixie Lincoln-Nichols – founder/CEO, Inside Outer Beauty Market
David Wagar – ReStore director, Habitat for Humanity Lehigh Valley
Catherine Bailey (moderator) - president/ chief operating officer, Rea.deeming Beauty, Inc
At the end of the program, attendees will be invited to stay on for Q&A and networking opportunities. The event is open to the public and registration is required online. For more information on LaunchBox Ladies, email [email protected] or call 610-285-5208.