Metamorphose presentations show imaginative concepts to makeover spaces on campus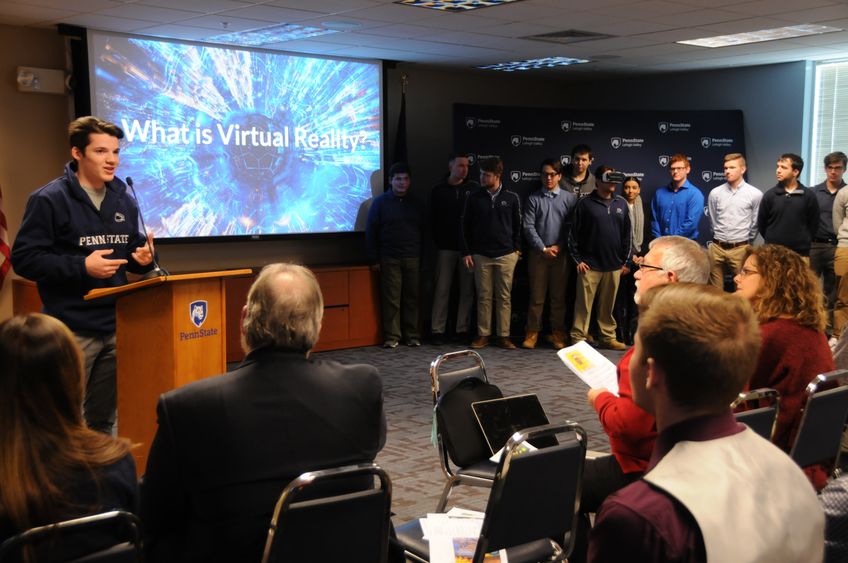 In August, Chancellor Tina Q. Richardson challenged the class of 2020 to reimagine spaces at Penn State Lehigh Valley in a way that would encourage creative thinking and build a deeper sense of community on campus. The project, Metamorphose, was chaired by seven advisers comprised of faculty and staff members, including Ron De Long, Elizabeth Flaherty, Mike Krajsa, Ann Lalik, Kate Morgan, Hal Scholz, and Corianne Thompson.
"The goal was to empower first-year students early in their college experience with a project that would have a large impact on their learning environment while also seeing through their eyes how they would like their campus to look and feel," said Morgan, an adviser as well as a human development and family studies instructor (HDFS). "We were blown away by the energy and passion of the presentations. From the desire to brand the campus with a Penn State feel, to creative space renovations to accommodate study areas and socializing, the students really brought some amazing ideas to the chancellor and campus community."
More than 25 proposals were submitted by first-year students in the 10 sections of the HDFS 287Y class. Richardson; Director of Academic Affairs Kenneth Thigpen; and an advisory committee reviewed each proposal and selected one from each of the 10 sections for the class to then work together on and develop into a final project proposal, which included budget research, risk management information, and impact studies.
Poster summaries of each proposal were on display in Centre Hall from Dec. 5 to Dec. 9 for the rest of the campus community to learn about the projects.
The students then presented their final 10 responses to the Metamorphose challenge on Dec. 9 in room 135 at the Lehigh Valley campus for all of the campus community. All presentations were five minutes in length and covered details such as the design and concept; addressed potential challenges and costs; and gave creative descriptions of the ideas while providing some friendly competition between the classes.
The projects included a wide variety of ideas and plans including:
Project Niagara: indoor waterfalls in Centre Hall where the current fireplace is located.
Steps to Success: A tile mosaic staircase project focusing on a celestial theme with Penn State artifacts through which the whole campus community could contribute their tiles and time.
Second Floor Lounge: revamp the current space to be more inviting with soundproofing, bean bag chairs, coffee maker, blue carpet, televisions, game tables, etc.
Project Paw Print: Each graduating class would get a paw print on sidewalk in front of building to show stepping into their futures.
Visibility: new signage ideas for the outside of the building highlighting the "We Are…" slogan.
Chalk Talk: area for students to write their ideas, supportive messages, advice and shout outs to provide a social support system and educational outlet.
Lion Pride Student Lounge: turn an unused room into a new study space with food and beverage options, a student worker to monitor the space, glass door entrance, whiteboard paint on the wall and Penn State inspired atmosphere.
New Lounge for Special Events: reimagined second floor lounge with glass walls, glass whiteboard, new furniture, TV, lighting for special events and wall décor.
Virtual Reality: inspiration from Villanova University's CAVE and Duke University's DiVE to create an interactive environment to be used for educational enhancement, vocational opportunities and recreational simulations.
Lion Gardens: build new outdoor learning space in the wooded area past soccer field that is environmentally friendly and a community garden.
"This was a great opportunity for my first-year students to learn to work together towards a common goal as they developed an idea, thought through a business plan and shared a coherent presentation of their final project," said Kristy Hove, Penn State Lehigh Valley institutional planner and HDFS instructor. "Although the mission was to create a transformation of some space on campus, I could also see a real transformation among the class as they articulated their thoughts and began to see themselves as true Penn State students. I am excited about their mosaic staircase idea and was very proud of them on Friday as they showcased it for the full campus community."
All students were invited by Richardson to become part of the implementation club for Metamorphose that will start in the spring semester.