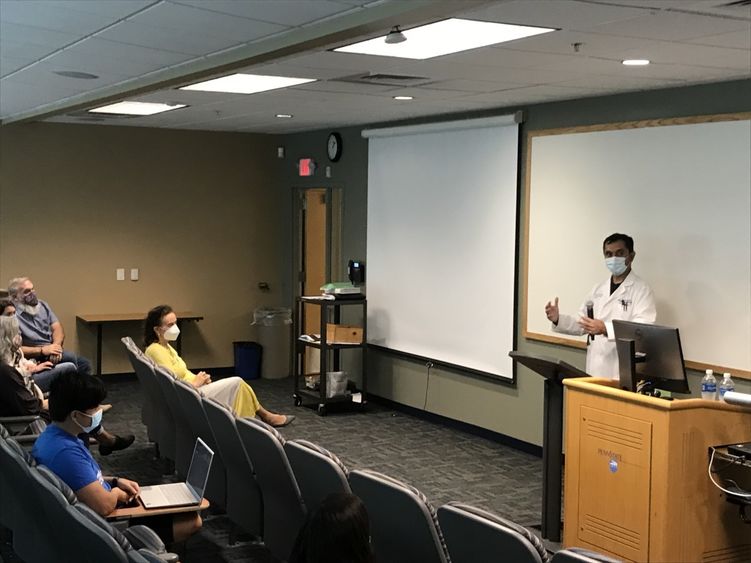 CENTER VALLEY, Pa. — Penn State Lehigh Valley recently welcomed University alumnus and physician Dr. Sean Pandey to the campus for an illuminating talk on the current stages of the COVID-19 pandemic.
During the presentation, sponsored by the campus' Health and Human Services Society, Pandey, a cardiologist and internist at Lehigh Valley Health Network's Coordinated Health, provided an abundance of clear-eyed and practical information on everything from vaccine booster shots to the potential end stages of the virus.
Pandey started his talk with a brief yet insightful history of pandemics, noting that "every 80 to 100 years, something like this happens in medicine," be it the bubonic plague, smallpox or the 1918 flu.
"No one knows why that is. Of course, now we have a much better health care system and have the ability to make vaccines and drugs," said Pandey, a graduate of both University Park and the College of Medicine.
Thankfully, Pandey said, COVID-19 is not nearly as deadly as the 1918 flu pandemic, which killed about 50 million people, nor even the more recent SARS or MERS viruses, which thankfully "burned themselves out" before becoming much wider-scale crises.
Vaccines have done a wonderful job of essentially eradicating diseases like polio and measles because they were widely accepted by the general public. The mRNA technology used in the Pfizer and Moderna COVID-19 vaccines had been in the works for many years. Unfortunately, Pandey said, they were launched "in this very politically charged environment," leading to skepticism among many people.
While much is still unknown about COVID-19, the data clearly shows the vaccines are doing their part to protect people from severe illness.
"The risks are much more pronounced for those who aren't getting vaccinated," Pandey said, offering as an analogy someone continually running out into heavy traffic — do it enough times, and you're very likely to get hit.
Whether a yearly COVID booster will become a necessity all depends on the virulence of future variants, Pandey said. It could turn out like the flu, which mutates every year and results in an annual shot that's typically 50% to 70% effective. Or, it could be controlled down to a much-less-harmful endemic level, "much like the common cold," he said.
"There could be treatments over the counter, like Tamiflu," said Pandey, noting Merck's antiviral pill, molnupiravir, is now being considered for emergency use authorization by the Food and Drug Administration.
Before taking questions from the audience, Pandey sounded a hopeful note regarding the pandemic's end.
"Viruses behave just like a forest fire," he said. "Hopefully, there's not many trees left to burn in the forest."