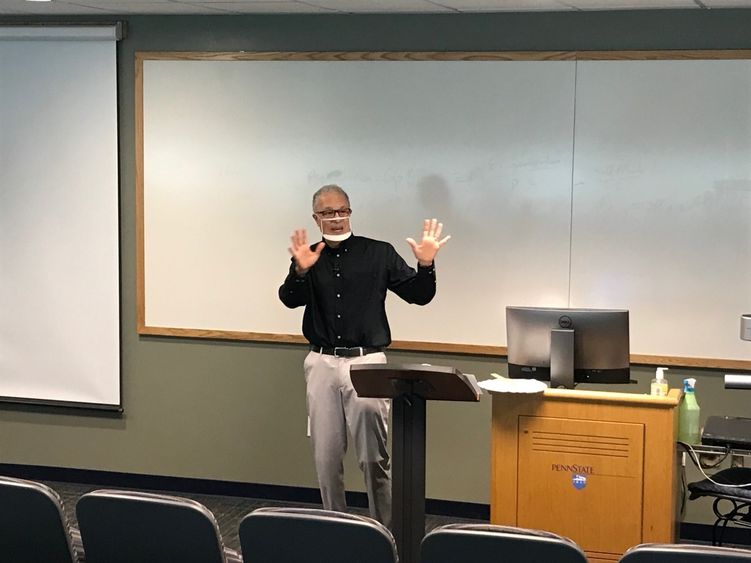 CENTER VALLEY, Pa. – Acclaimed speaker, performer, playwright and author Michael Fosberg visited Penn State Lehigh Valley recently to offer his unique and inspiring perspective on race and identity in modern America.
Fosberg's presentation, "Nobody Wants to Talk About It: Race, Identity, and the Difficulties in Forging Meaningful Conversations," used his family history as the springboard to illustrate the importance of discussing matters of race, diversity and inclusion. The event was sponsored by the campus's Black Student Union (BSU) in collaboration with the All In Committee.
"The words race and racism can put the breaks on any conversation," said Fosberg as he led off his talk. "Mention the word race, and people run for the hills. People don't want to have those conversations. So how do we bring people closer together and talk about diversity and inclusion in a more meaningful way?"
By sharing our own personal stories, openly and honestly, we can break down those barriers and realize "we have a lot more in common than we have different," said Fosberg, who from there turned the focus of his discussion to his autobiographical one-man play, "Incognito," which he's performed at schools, colleges, corporations, government agencies, community organizations and military bases around the country for more than a decade.
Raised in the Chicago area by a white biological mother and white adoptive stepfather, Fosberg's sense of identity was completely upended in his early 30s after learning his biological father was Black. Fosberg showed a video clip from "Incognito," in which he performs the powerful first conversation he had with his father, John Sidney Woods. The two men forge an immediate bond, and Fosberg learns the painful details behind his father's disappearance from his life.
After years on the road giving presentations and engaging in deep conversations, Fosberg has assembled seven "tools" to help foster authentic dialogue surrounding difficult issues of race and identity. They are:
Tell your personal story. Open up and listen.
Don't' judge the differences – find mutual interests, but embrace differences.
Recognize there isn't one way to have a conversation about identity and race.
We can disagree, so long as we're not disagreeable.
Get comfortable being uncomfortable.
Understand there are realities outside of your own experience. Listen with empathy.
Practice forgiveness.
"I've had the great honor of traveling around the country to share my story. And not everyone sees the play the same way," Fosberg said. "Each of us comes to our identities in different ways – all of us go on our own unique journey of identity. By sharing our stories, we can find our commonalities."
For more information about Fosberg, visit incognitotheplay.com.