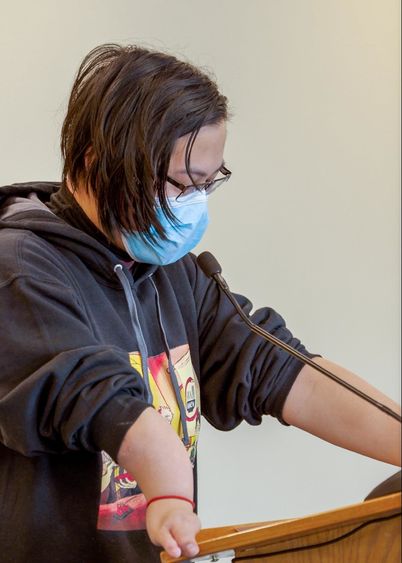 CENTER VALLEY, Pa. — A little sharing can go a long way to breaking down barriers and fostering camaraderie among diverse groups of people.
That was the concept behind Penn State Lehigh Valley's recent "We Are … Sharing Our Stories" program, a joint effort of the Office of Student Affairs and the All In Committee.
At the event, students, faculty and staff performed poems they wrote using a "fill-in-the-blanks" template titled "Where I'm From." The prompts on the form allowed participants to share entertaining and compelling insights on their personal history, family life and cultural traditions.
"Our goal with this event was to provide a creative and fun experience to build community and grow awareness of other people's backgrounds," said Assistant Director of Student Affairs Pam Fleck, who organized the event with Assistant Teaching Professor of English Michelle Kaschak and Academic Affairs Faculty Coordinator Tiffany Valdes-Madera.
It was Valdes-Madera who proposed the "Where I'm From" poem template to the other members of the All In Committee, having first been introduced to the concept about five years ago when she was serving on a diversity and inclusion committee for the Cherry Creek School District in Colorado.
"I loved the experience when I first did it and it has stayed with me all these years," Valdes-Madera said. "So, when the conversation came up in the All In Committee about what we could do to have some meaningful engagement, this poem was the first thing I thought of."
"When she offered it as an idea to us, I immediately knew we could make this happen at the campus," Fleck added.
The committee found roughly 15 participants willing to complete the poem prior to the event. From there, about six other campus community members who attended the event filled out the form while sitting in the audience, then stepped up to the podium for an impromptu performance.
Ryan Adamson was among the student participants, having been intrigued by the overall concept.
"I think it was a great and subtle way to share our stories. I could tell a lot of people had important things to share and this was a great way to do that," Adamson said. "I had a fun time writing my poem. I thought it was going to be really easy at first, but I found out as I wrote it was a lot harder than I thought. It was tough coming up with ways to express the things I wanted with the conditions I was given. I did enjoy reading my poem because I was able to give people a little look into my life without getting into a deep discussion about it. I love sharing my story and this was a nice way to do it."
Fleck said she found the process of writing and performing her poem invigorating.
"It was more challenging and thought-provoking to write this than I thought," Fleck said. "I really wanted it to reflect who I was and where I came from. Sometimes in a busy world the history that I am grounded in gets lost. This made me really reflect and brought up a flood of emotions and memories and gave me a great sense of joy, knowing how all of those great experiences helped form me and still inspire me today."
"The writing process was hard because there were so many ways my poem could have gone, based on the particular noun or object referenced in the template," Valdes-Madera said. "I was nervous at first to read my poem, but I really enjoyed writing it and sharing it with everyone."
Afterwards, participants were encouraged to fill out a brief survey. Fleck noted the feedback was extremely positive, with respondents noting the exercise allowed them to learn more about themselves, and that it resoundingly demonstrated the diverse and inspiring makeup of the PSU-LV community.
Given that response, Fleck said she would happily do the event again.
"This could be a great tradition for us, and maybe next time some different people can share their stories," she said.
"I think that this activity really challenged students, faculty and staff to reflect on aspects of their childhood, upbringing and family of origin, and from there create something beautiful," Valdes-Madera said. "I was so thrilled with how many people shared their stories; it was a full-circle moment for me. It was an idea that came to life in a way that was even better than I could have imagined."