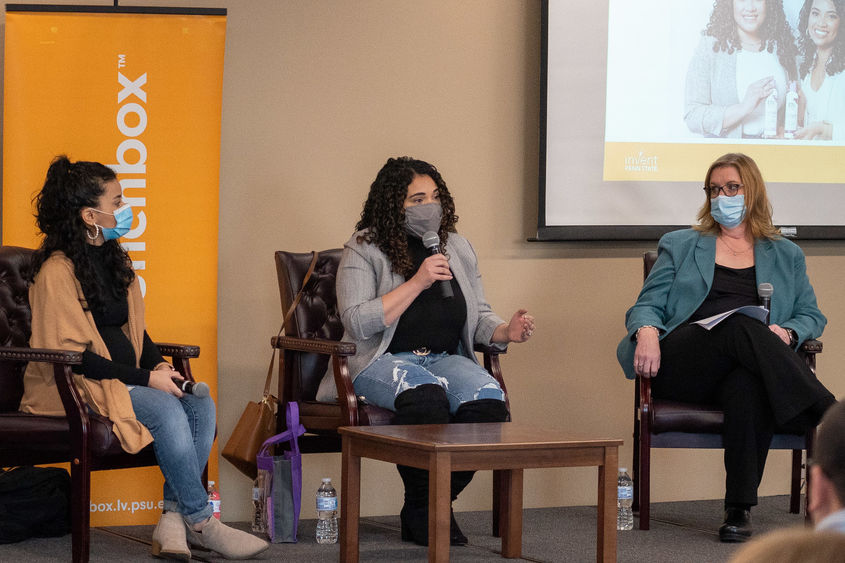 CENTER VALLEY, Pa. — Continuing to spotlight the talents of women entrepreneurs, Lehigh Valley LaunchBox powered by Penn State featured sisters and business owners Cory Dahlia Varona and Nicol Varona Cancelmo at its most recent LaunchBox Ladies Speaker Series talk held at Penn State Lehigh Valley.
At the event, titled "The Next Entrepreneur: Steps to Starting Up," the Penn State Berks graduates shared the story behind their natural women's hair products company, DN Organics, and offered the campus community some hard-earned wisdom on the challenges of running a business.
The sisters, who refer to themselves as "sister-preneurs," recently competed at the third annual StartUp Lehigh Valley pitch competition hosted by Lehigh Valley LaunchBox and Factory LLC. There, they received one of three $500 LaunchBox Boost awards to help them grow their business.
At the beginning of the program, PSU-LV Chancellor Tina Q. Richardson praised the sisters' talents and thanked them for sharing their story with campus students who might possess the same type of entrepreneurial drive as them.
"Today, we're going to exchange ideas on how we can encourage future entrepreneurship," Richardson said.
From there, PSU-LV Lecturer in Accounting and Business Colleen Krcelich moderated a thoughtful, illuminating discussion with the sisters.
The origins of DN Organics go back to 2018, not long after the sisters had made a commitment to keeping their hair in its naturally curly state. Having a difficult time finding haircare products that weren't filled with potentially harmful chemicals, they decided to begin making their own.
"We wanted to take things to the next level and make products that were safe and that we could share with others," Nicol said.
"Once we started making our own, we realized, 'Wow, this actually works as well as the products sold in stores,'" Cory added.
Of course, figuring out a way to make and distribute their products on a large-scale level was a challenge. Once they came up with a solid business plan, the sisters got to work in a number of ways, from coming up with a name (their original choice had to be scrapped due to trademark issues) to establishing an LLC to getting a web domain to finding a place to manufacture their products.
Plenty of hurdles followed, including a fire at their initial manufacturing facility, and the COVID-19 pandemic, which delayed the rollout of their products by a year.
"The fire was actually a blessing in disguise, because we found a better manufacturer," Nicol said.
The sisters have kept their day jobs in order to maintain financial stability while growing their business. And they gave students plenty of other bits of helpful advice, such as: invest heavily in social media to build word of mouth on your product; share your story with everyone, because you never know who might have access to a valuable network; and make a concerted effort to apply for as many available grants and competitions as possible, like StartUp Lehigh Valley.
Of course, the sisters also noted it helps greatly to have a strong support system to lean on.
"I really couldn't have done this without Nicol," Cory said. "Having your sister, who you've known since Day 1, that's a partnership that's never going to break."
About Lehigh Valley LaunchBox
Lehigh Valley LaunchBox is a Penn State- and community-sponsored business accelerator program created as part of the Invent Penn State initiative. The Lehigh Valley LaunchBox program awards micro grants to budding entrepreneurs. Partners of Lehigh Valley LaunchBox link micro grant-recipients to alumni, business leaders, and academic partners to provide mentorship and to help launch ideas and turn them into useful products. All Lehigh Valley community members and Penn State faculty, staff and students who have a scalable business idea are welcome to apply for affiliation with the Lehigh Valley LaunchBox.