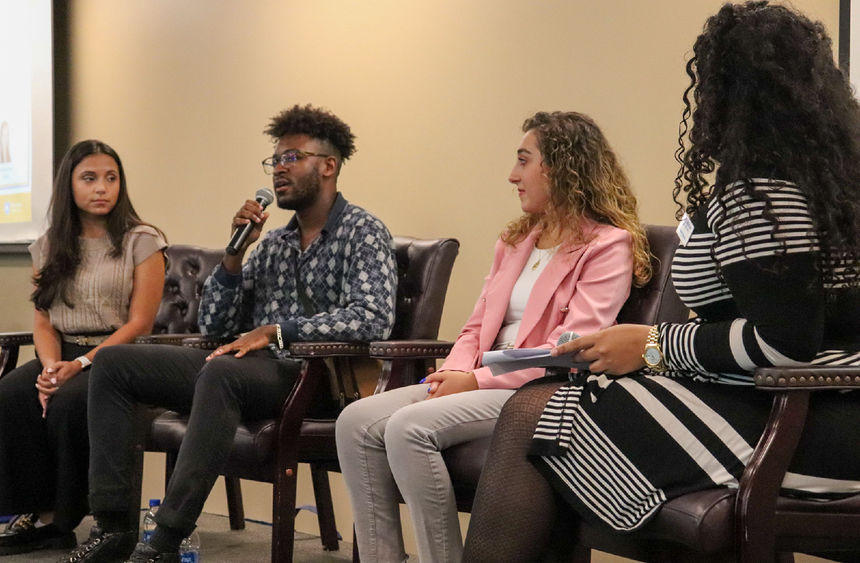 CENTER VALLEY, Pa. — "Is Entrepreneurship in my DNA?" That was the overarching theme of Penn State Lehigh Valley's latest LaunchBox Ladies event touting three highly motivated PSU-LV students who've already started their own venture or are part of a family business.
Moderated by Viacmely Jimenez, a senior at PSU-LV and full-time office and events coordinator on campus, the panelists included Lara AbdelAhad, Qofi Quainoo, and Mishell Ortiz.
Born and raised in Lebanon, AbdelAhad moved to the United State in 2016 with her parents. "My family owned a business in my native country," she said. "But I never dreamed they could start one here."
In addition to learning the language and settling into a new country, her parents and uncles did, in fact, create Top 3 Motors (Facebook: @Top3 Motors), a thriving auto repair business in Easton where AbdelAhad has taken on an active role.
When asked about her long-term goal, the PSU-LV junior and business major/finance minor shared that she wants to own a hotel, a dream that formed as she traveled with her family over the years.
Mishell Ortiz is also hitting many milestones. She's already earned two sought-after internships at a Fortune 200 medical and pharmaceutical device company, is pursuing a second degree in business with a minor in marketing (her first earned in digital media communication), and created Ann.Rose Photography, which captures milestone events like weddings, graduations, maternity shoots, and product photography used in business marketing.
Quainoo, also a photographer and marketer, is steadily developing a client list that includes Stay Calm Industries, an agency that represents (among others) the Barn at Walnut Grove where he shoots regularly. Quainoo is a senior business major with a concentration in marketing and management who also earned a 30-hour digital marketing certificate through PSU-LV's Digital Marketing Institute this past spring.
Each of the young entrepreneurs shared their insights, AbdelAhad being the first to point out, "There's a great deal of responsibility, but the ability to control your own schedule is an enormous perk." The other panelists agreed.
Like AbdelAhad, Quainoo came from a family of entrepreneurs. "My mom owned rental properties and my brother and I had the 'opportunity' to really get involved in the business. Every time someone moved out," he began to joke, "we had the opportunity to paint, touch things up, clean …" He trailed off; the levity punctuated with the unspoken point: owning a business is hard work.
When asked what sparked the group's interest originally, Ortiz got personal – sharing how she was given up for adoption and her new mother gave her a camera. "I was very young and immediately wanted to take pictures of everything – people, scenery, chickens … there were LOTS of chickens in Puerto Rico where I visit family."
Later, in the states, she joined the yearbook club and was encouraged by her teachers to further leverage her talents.
But it was when Ortiz met her birth mother at age 15 that she recognized the power of photography. "She told me she clung to the only picture she had of me for all those years … and how glad she was that we could now make many more." Less than five years later, Ortiz's birth mother passed away. "It made me realize how important the memories I capture in my business really are."
Ortiz also shared that her family did not have the opportunity to pursue their education but worked hard to make their way. "My father emphasized the importance of school – over and over as I grew up. There again, I now understand."
AbdelAhad spoke to the challenges that can take make or break an entrepreneur. "You are going to hear what seems like millions of no's. You are going to fail. But to overcome it and make it a successful moment, you must take each 'no' and failure as an opportunity to learn."
Quainoo continued, "Whenever I feel that doubt creeping in, I go back to my original vision. I've also come to realize that I love being around my friends, but to keep this alive, I need to surround myself with other entrepreneurs, people who believe in my dream and will help propel it."
Ortiz gave further context to their points when she described the many hats an entrepreneur wears. "I've heard plenty of people say things like, 'I'm not a marketer, how am I supposed to write a marketing plan?' There's so much to do in the beginning – business development, creating budgets, marketing plans. You just have to immerse yourself in it, check your ego, and whether it's at school or while you're at the gym, make connections and learn from everyone you can."
To that point, PSU-LV LaunchBox offers endless opportunities to network, in addition to offering other staple resources ranging from marketing guidance to microgrants and free legal council – the service that's often hailed as the priciest hurdle in starting a business. Part of a much larger Penn State network of innovation hubs across the state, the valley's LaunchBox continues to grow in step with students' interest in being their own boss.
"This generation is the most racially and ethnically diverse demographic group to date," said Tina Q. Richardson, chancellor of PSU-LV. "It's also becoming known as the most entrepreneurial given the reports indicating anywhere from 42 to well over 70% of Gen Z-ers have started — or want to start — their own business. As the only land-grant university in the state, we're committed to providing access to education and resources — including those tailored to entrepreneurs — the cornerstone of our country's workforce."
About Lehigh Valley LaunchBox 
Lehigh Valley LaunchBox is a Penn State- and community-sponsored business accelerator program created as part of the Invent Penn State initiative. The Lehigh Valley LaunchBox program awards micro grants to budding entrepreneurs. Partners of Lehigh Valley LaunchBox link micro-grant recipients to alumni, business leaders, and academic partners to provide mentorship and to help launch ideas and turn them into useful products. All Lehigh Valley community members and Penn State faculty, staff and students who have a scalable business idea are welcome to apply for affiliation with the Lehigh Valley LaunchBox.