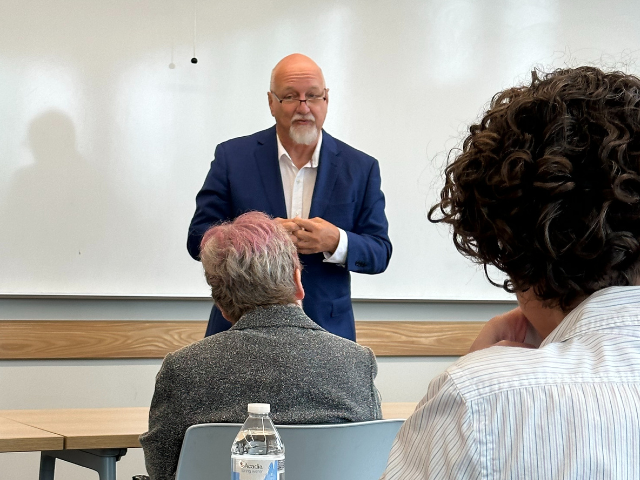 CENTER VALLEY, Pa. — On Sept. 25, Penn State Lehigh Valley (PSU-LV) recognized the passage of the landmark Rehabilitation Act of 973 with a Celebration of Disability Rights, a campus-wide event that acknowledged and celebrated the work that has been done around disability rights but recognized there is much work left to do. 
The Rehabilitation Act of 1973 was the first civil rights legislation for people with disabilities in the United States. The law prohibits discrimination against persons with disabilities in programs conducted by federal agencies, in programs receiving federal financial assistance, and in federal employment and in the employment practices of federal contractors, said Andjela Kaur, assistant teaching professor of rehabilitation and human services and event co-organizer.
"Prior to 1973, disabled people's rights were not recognized," Kaur said. "The passing of the Rehabilitation Act changed this, and we now understand that persons with disabilities are entitled to legal protections and civil rights." 
Michael Gamel-McCormick, disability policy director for Pennsylvania Sen. Bob Casey, was the keynote speaker for the event. Gamel-McCormick previously held a similar position in the office of Sen. Tom Harkin. Attendees had the opportunity to discuss current disability policy and ask Gamel-McCormick questions during his 60-minute presentation.
Gamel-McCormick talked to the audience about Casey's three focus areas related to disability rights: employment and economic security, ending subminimum wages, and increasing law enforcement's knowledge about disability. He also encouraged audience members to reach out to Casey's office with any questions or concerns.
Issues of particular concern to students with disabilities were discussed during this event. Students, faculty and staff also posed questions concerning attitudes around diversity and the expectations that need to change in order to improve inclusion of students with disabilities into higher education.
Kaur said she is interested in policy that aims to end subminimum wage for disabled workers.
"We've come a long way in the sense that employment numbers for disabled workers have gone up," she said. "We've improved the rate of employment in the last 50 years. Today we better recognize strengths that workers with disabilities have. What's left to do is pay them fairly."  
Gamel-McCormick's presentation concluded with a visit to an exhibit by disabled artists Sasha Meret, Michelle Neifert, Heidi Hooper and Marissa Grello, which is on display in the Ronald K. DeLong Gallery. 
Kaur said these events, following the Disability Pride event PSU-LV hosted this summer, show the campus is working to increase inclusion and a sense of belonging for students and community members with disabilities.  
The Celebration of Disability Rights was sponsored by All In, PSU-LV's committee on diversity, equity and inclusion; the Rehabilitation and Human Services program; and the Ronald K. DeLong Gallery; and supported by the Office of Student Affairs.