Living with disabilities, artists Sasha Meret and Michelle Neifert find their strength and inspiration in their respective conditions; exhibit on display through Dec. 2 at Penn State Lehigh Valley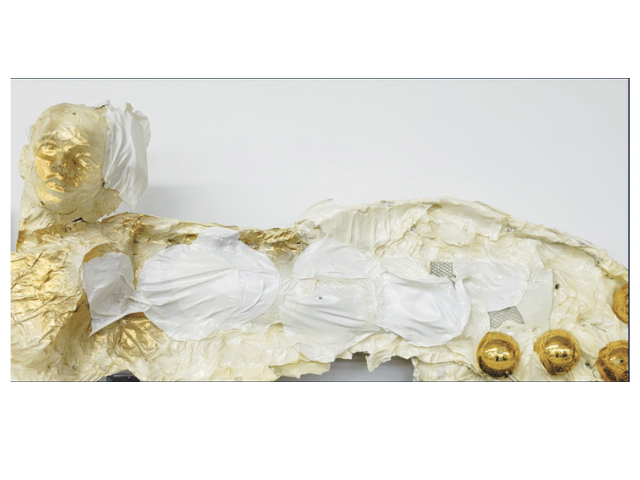 CENTER VALLEY, Pa.  — "Eudaimonia," a state of well-being defined by mindfulness, acceptance, purpose, skill mastery and positive relationships, is both the inspiration for and title of an upcoming exhibit at the Ronald K. DeLong Gallery at Penn State Lehigh Valley. The exhibit features works from artists Sasha Meret and Michelle Neifert and runs from Sept. 5 to Dec. 2. 
Both artists said they find their strength and inspiration in their respective conditions. Meret lives with Parkinson's disease, and Neifert has bipolar depression.
Romanian-born Meret has won several awards for his multimedia projects. Working in a variety of styles, from representational to abstract, his imagery blends European, African, Asian, and esoteric symbolism in a highly personal visual language to represent his spiritual exploration.
Since his Parkinson's diagnosis in 2003, Meret's work took a different direction, he said. Never shying away from a challenge and always looking to broaden his scope, Meret has incorporated found objects and photography into his recent works. He regularly tackles theories, concepts, and historical events, concurrently reversing perspective or reinterpreting facts until the world surrounding him becomes a little more reachable. He continues to be inspired by his extensive reading interests, which include the subjects of history, mythology, philosophy, literature and physics.
Meret said he has three basic goals for his art: a harmonious result that intrigues, challenges, and has a healthy dose of humor.
"I welcome the happy accident —the accomplished error that helps me to think out of the box and leads me often to the most innovative formulas," he said.
Neifert, a Lehigh Valley native, graduated magna cum laude from Kutztown University in 1993 with a bachelor's degree in printmaking. She continued her education at the Pennsylvania Academy of Fine Arts and Baum School of Art.
Her work initially focused on strong, high contrast, large-scale pieces, always in black and white and representing the human form, she said. Over time, inspired by artists like Marc Rothko, Claude Monet and Helen Frankenthaler, she embraced the use of bold, bright color. After 22 years, her abstract expressionist roots are still apparent in her work.
"Through my art, I seek to challenge preconceived notions, confront societal norms and break down mental health stigma. By prompting viewers to question their own perspectives and engage in meaningful dialogue, I aspire to foster empathy and understanding," Neifert said in a statement. "Ultimately, my artistic journey is an ongoing exploration, an ever-evolving quest to capture the intangible aspects of our existence. By infusing my creations with emotion, introspection, and vibrancy, I hope to create a space where viewers can connect, reflect, and find solace in the shared human experience."
"Eudaimonia" coincides with the 50th anniversary of the Rehabilitation Act of 1973 on Sept. 23. This groundbreaking civil rights legislation mandated an equal playing field for people with disabilities in the United States.
The public is invited to a discussion with Michael Gamel-McCormick, the disability policy director for Pennsylvania Sen. Bob Casey, at 12:15 p.m. on Monday, Sept. 25, in Room 330 at Penn State Lehigh Valley. The event will be followed by dessert and conversation in the art galleries. 
For more information on the Ronald K. DeLong Gallery, visit the website.