Get to know the campus THON dancers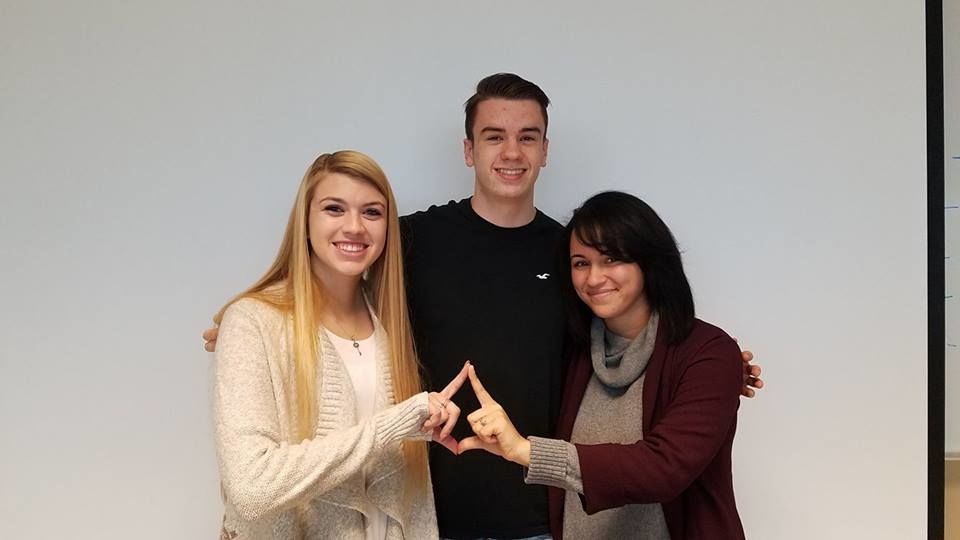 The Penn State Lehigh Valley Benefiting THON has announced their dancers for the 46-hour no-sleeping, no-sitting dance marathon held in February known as THON weekend. Marissa Pearson, Emeline Placencia and Jacob Stith will honor Penn State Lehigh Valley Benefiting THON as the three dancers this year.
The Penn State Interfraternity Council/Panhellenic Dance Marathon, known as THON, is the largest student-run philanthropy in the world, raising money to fight pediatric cancer.
Marissa Pearson, a sophomore early childhood education major at Penn State Lehigh Valley, currently resides in Kutztown. She graduated from Northwestern Lehigh High School. Pearson expressed gratitude and pride while taking the time to share her story.

Why do you dance?
"My mom is an elementary school teacher, and many years ago she had a girl named Holly in her class. Holly had Leukemia. I have heard countless stories about how strong and happy she was despite all of the hard things that she was going through. Unfortunately, Holly lost her battle with cancer. During Holly's illness my mom got very close to Holly and her family. So close that when I was born, my mom made Holly's mother my godmother. I see how much my godmother still struggles to this day with the loss of her daughter. I feel that if this little girl can go through everything she did and be so brave and strong, that I can also be brave and strong and donate 46 hours of my time to other kids and families going through the same thing that she did. I want to dance to show my godmother and other families that there are people who care. I am dancing in the hope that we will one day find a cure."
How are you preparing for the dance marathon?
"This is something that I do not take lightly at all. I am going to start going to the gym again and get myself physically fit. I am going to start strengthening my leg muscles so that my body is more prepared and stronger. I will also be meeting with a former dancer, Megan Marzella, to get some tips on what I should expect and what I should be doing to prepare for this weekend."
What does it mean for you to be chosen as a dancer?
"I cannot even put into words what this means to me. It is an amazing feeling to be a part of something so big. I want to be able to give these kids who have struggled, or are currently struggling, a weekend to forget about all of their problems and just have fun and be a kid. I am so honored to represent our campus and our community for such an amazing cause."
Emeline Placencia, a senior corporate communication major at Penn State Lehigh Valley, currently resides in Allentown. She graduated from William Allen High School. Placencia shared her personal connection to the cause.
Why do you dance?
"I dance for those battling cancer, for the children, for my father and most importantly for Sean (Our THON child) who is ten years cancer free. There's a 'CAN' in CANCER because we 'CAN' beat it!"
How are you preparing for the dance marathon?
"When preparing for the 46-hour dance marathon, I will be going to the gym at least three times a week, eating healthy and drink lots of water. You not only have to prepare yourself physically, but you must prepare yourself mentally! I've learned the dos and don'ts of how to prepare yourself for those 46 hours from my sister Janelle Placencia, who was a dancer for PSU-LV in 2015."
What does it mean being chosen as dancer?
"It means the world to me. I was speechless when I got chosen as a dancer; words can't describe the excitement I felt. I love children, and knowing that there are children going through cancer breaks my heart because they have their whole life ahead of them. I have someone very close to me who is a colon cancer survivor: my father. I can't imagine the pain that anyone would feel having someone very close to them have cancer because it wasn't easy for me. They didn't and aren't giving up so why should we? There's a quote that I live by, and that is 'You have to fight through some bad days to earn the best days of your life.'"
Jacob Stith, a sophomore kinesiology major at Penn State Lehigh Valley, currently resides in Allentown. He graduated from Lehigh Valley Christian High School. Stith explains why this is a dream come true for him.
Why do you dance?
"I dance to help those families in need of support, to one day find a cure, and to bring hope and smiles to children. No one deserves to be given this burden at such a young age, and after having personal losses I understand what it's like to lose somebody so close to you by this sickness. I strive to do whatever I can to end this burden and to bring light to those still looking to find it."
How are you preparing for the dance marathon?
"I'm preparing myself by working out every day, eating healthy, and practicing standing for about eight hours during the weekend when I work."
What does it mean being chosen as dancer?
"Being chosen as dancer meant the world to me. After experiencing THON last year in the stands, I knew I wanted to be on the main floor the following year. It's not only one of the greatest opportunities given to me, but also a dream come true. I can't wait to be there and to bring a positive vibe and energy to not only my organization, but to the other dancers with me."
Contact
Dennille Schuler
Public Relations Specialist
Penn State Lehigh Valley