The second annual Mini-THON event was fun-filled and student-led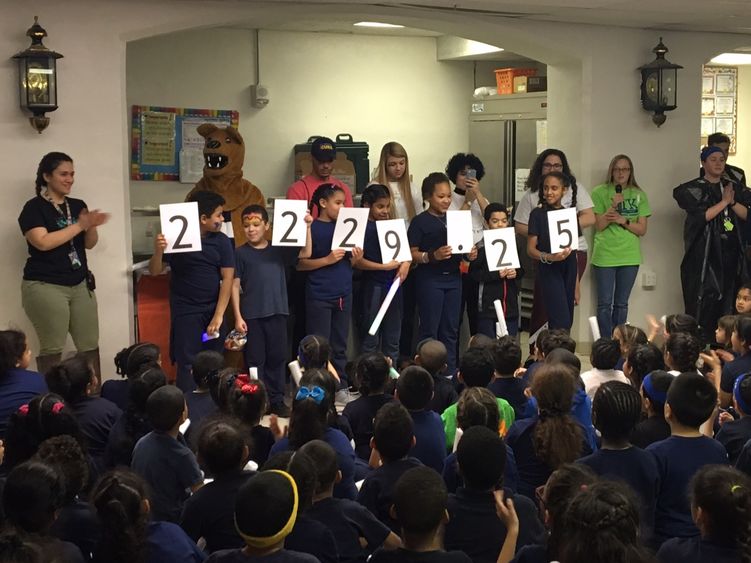 More than 200 Roberto Clemente Elementary Charter School (RCECS) students and teachers hosted their second annual Mini-THON event on Feb. 22 from 2 to 5 p.m. with support from Penn State Lehigh Valley student, faculty and staff volunteers.
Four Diamonds Mini-THONs are fun-filled events for students of all ages which inspire teamwork, leadership and creativity while empowering young people through philanthropy and service in the fight to conquer childhood cancer. Mini-THONs are modeled after the Penn State IFC/Panhellenic Dance Marathon (THON). THON 2017 took place Feb. 17 to 19 at the Bryce Jordan Center on the University Park campus in State College. More than 700 students from Penn State campuses and organizations, including three from the Lehigh Valley campus, danced continuously for 46 hours to raise money for pediatric cancer research and treatments.
Mini-THONS have been making a difference in the lives of childhood cancer patients and their families for more than 20 years, according to the Mini-THON website.
All participants were required to donate at least $10.00 to enjoy the Mini-THON activities. The students were very generous and raised over $2,200 for the Four Diamonds Fund.
The event featured a dance party run by representatives from the Hispanic American League of Artists and Zumba with Sandria; a standing arts and crafts station where students created cards for patients at Penn State Milton S. Hershey Medical Center; a Penn State Lehigh Valley game area kept the students moving so they did not sit down during the entirety of the Mini-THON; Kara Curry from 99.9 The Hawk radio station set up a Crayola Coloring zone and gave away Crayola Experience passes and McDonald's prizes; a Lehigh Valley Steelhawk player visited the students; and a face painting and hair braiding station was run by Metro Beauty Academy students.
"Our kids had so much fun, laughing, dancing, singing, making cards and all while they remained standing," Jessica Kamber, RCECS counselor. "It's just a little thing our school community can do to help kids with cancer."
The Nittany Lion mascot and two of the THON dancers who represented Penn State Lehigh Valley at the 2017 Panhellenic Dance Marathon, Marissa Pearson and Emeline Placencia, stopped by to cheer on the students. 2016 THON dancer Megan Marzella came back again this year to be part of the Mini-THON.
The event concluded with an energizing reveal of the total amount raised. And then 12 lucky students got to pie RCECS Principal Alyssa Newman and Assistant Principal Brighid McDonnell in the face.
In December, Penn State Lehigh Valley Alumni Society and the Lehigh Valley campus hosted its first-ever Mini-THON Best Practices conference for local high schools. More than 50 high school students and their club advisers attended to learn about innovative ideas and top standards to keep in mind when planning and hosting their Mini-THON events. For those interested in attending the next Mini-THON Best Practices conference, contact Diane McAloon, interim director, community and alumni outreach at Penn State Lehigh Valley at [email protected] or 610-285-5066.
Contact
Dennille Schuler
Public Relations Specialist
Penn State Lehigh Valley