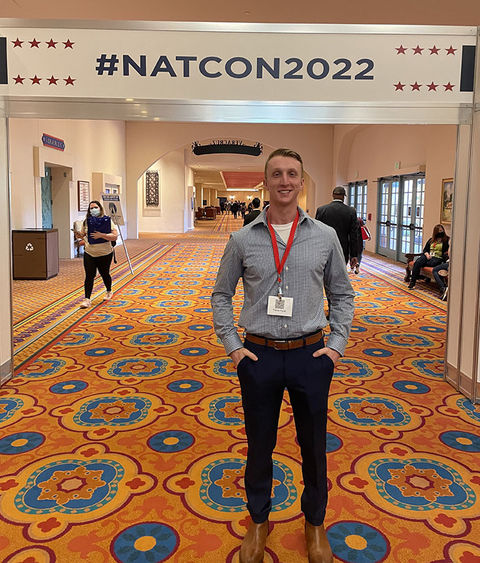 CENTER VALLEY, Pa.  — Penn State Lehigh Valley (PSU-LV) student Trevor Faust represented not only the campus but the entire Penn State community at the recent Student Veterans of America National Conference (NatCon) at Disney World's Coronado Springs Resort near Orlando.
A sophomore business administration major from Bethlehem, Faust is a Marine Corps veteran and the current vice president of PSU-LV's Student Veterans of America (SVA) Club. He first heard about the conference through Melissa Baker, coordinator of student services.
PSU-LV sponsored Faust's attendance at the conference, and Bob Wolfe, PSU-LV lecturer in business and economics and corporate communication program coordinator, made a monetary contribution toward Faust's conference expenses.
"The conference was awesome," Faust said. "The best part about it was the chance to reach out to and communicate with other veterans. They had some keynote speakers who were more entrepreneurial. They were all veterans, and they shared their experiences about how they became successful."
According to the conference's website, NatCon is the largest gathering of student veterans in the country. The event brings thousands of student veterans together with keynote speakers, employers and thought leaders to explore topics including: growing and sustaining attendees' respective SVA chapters during and after the COVID-19 pandemic; funding and fundraising; building inclusive cultures; and leading research at the intersection of veterans and higher education.
Besides the sessions and resources available at the conference, Faust said SVA is also providing more overall resources and opportunities for student veterans transitioning to civilian life and seeking employment. The opportunity to share ideas and best practices with other student vets at the conference proved highly valuable, he said.
"The conference was helpful because we could see what other schools do," Faust said. "I could get other ideas about how PSU-LV can help veterans even more than they already do. The conference helped me personally, and the ideas I got from it will help future student veterans. They're a great resource for Penn State."
Faust is developing his own entrepreneurial side while he considers his post-PSU-LV future. He is working with a friend, Phil Kochsmeier, on Maple Street Woodworking, a custom woodworking business, and MSW Hardwood Lumber.
"I took Bob Wolfe's economics class and talked to him a little bit about how to grow the business," Faust said. "In that sense, I'm an entrepreneur. I kind of have a few different paths I'm looking to pursue. I'm also looking into the Pennsylvania Game Commission to be a state game warden. I also want to help small businesses."
"We started talking and Trevor told me he was a veteran and that he wanted to get his degree.  He told me he was using his GI Bill to get his degree. I'm a big advocate for the GI Bill — it's a small way to give back to veterans because they have done so much for us," Wolfe said. "We chatted and I said, 'This guy is the kind of guy who deserves our support.' Anything we can do to help him I think is a good thing."
"It was my understanding the campus had never been able to send any veterans to this national conference. I told him I think it's a good thing you're attending — you're helping student veterans, and it's really valuable for Penn State," Wolfe continued. "I always love having veterans in my class. They do the work — they take on the responsibility of learning. Trevor was always in class, very responsible, and always had great grades. That is the mark of an excellent student."
Faust said PSU-LV's strong reputation as a military-friendly school was one of the top reasons he chose to attend the campus.
"In general, I've found the campus to be very helpful, especially people like Melissa Baker. I think she deserves a lot of recognition for all she does," Faust said. "It's been kind of weird going into a classroom and being older than everybody. I think the best thing for adult learners is to stick together, even if you don't have any classes together. And I think it's important for adult students like me to mentor the younger students who are just coming in and trying to figure stuff out."