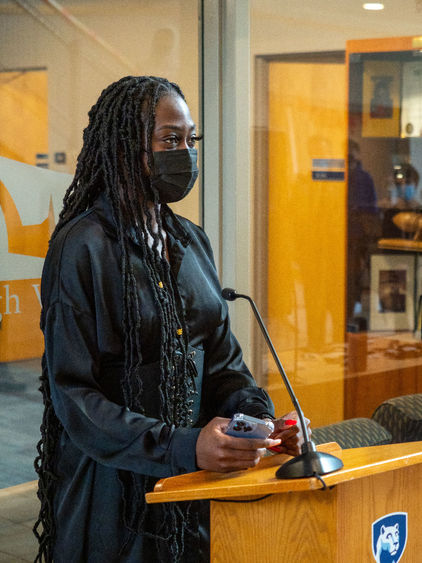 CENTER VALLEY, Pa. – Continuing its commitment to diversity, equity and inclusion, Penn State Lehigh Valley held several special programs during February in recognition of Black History Month.
The month's events each came with their own unique themes, and included: Melanin Monday, for which students were encouraged to wear cultural dress; "I Have a Dream" Day, a play on Martin Luther King Jr.'s iconic speech for which students donned clothes reflecting their "dream profession"; Black History Month Trivia, featuring comedian Mickey Housley; and Blackout Day, for which all members of the campus community were encouraged to wear black to show support for members of the Black community.
Blackout Day also included a special educational rally in Centre Hall featuring remarks on advocacy and awareness by campus Black Student Union leaders Rebecca Ganthier and Ja'Najah Thomas, as well as Director of Information and Instructional Technology LizBeth Johnson and Assistant Director of Student Affairs Pam Fleck.
Johnson discussed the contrast between two colleges she attended — Spelman College, an HBC, or "historically Black college or university," and the predominantly white Georgia Tech University, where she was the only Black female enrolled in its aerospace engineering program. She said she found a genuine support system and sense of community at the former, but struggled to find the same at the latter.
Given that, she implored those in the audience to step up and serve as allies to students from underrepresented communities.
"Get to know me. Get to know my community, my people. Build that community and those relationships," Johnson said. "Being an ally is something you can't do from the outside. It has to be done from the inside."
In her remarks, Ganthier, president of Black Student Union, talked about her firsthand encounters with discrimination.
"As a Black woman living in America today, I can't tell you the number of times I've been treated different and not taken seriously," she said, adding that people need to "get comfortable being uncomfortable" in order to make meaningful strides in the cause of social justice.
At a conference several years ago at University Park, Fleck attended a session where the speaker spoke about the experience of being a Black person at a predominantly white school. That served as the impetus for Fleck researching and ultimately initiating a Black Student Union chapter at PSU-LV.
"I feel really grateful for having had that opportunity," Fleck said.