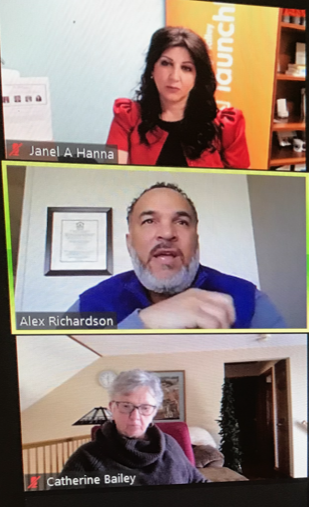 CENTER VALLEY, Pa. – On Wednesday, March 3, Lehigh Valley LaunchBox powered by Penn State's LaunchBox Ladies series hosted a forum on the critical role community banks play in the world of entrepreneurism.
The virtual program, "Community Banks Small Business Funding Opportunity," featured three local banking professionals discussing the many ways that small businesses and start-ups can take advantage of the funding opportunities provided by community banks.
Serving on the panel were Dinoli Rowlands, regional business banking relationship manager at PNC Bank; June Webre, regional banking initiatives officer at Essa Bank; and Alex Richardson, commercial banker at American Bank. They fielded questions from student moderator Viacmely Jimenez, senior psychology major and business minor at Penn State Lehigh Valley.
"Community banks provide about 60% of all small business loans, so we really can't overstate the importance of community banks to entrepreneurs," said PSU-LV Chancellor Tina Q. Richardson in her opening remarks.
One of the most important things an entrepreneur can do when seeking a loan from a community bank is to establish a good working relationship with their banker, Alex Richardson stressed.
"You should never feel like you're too small to talk to a bank -- no one is too small to talk to a bank," he said. "Most banks now, large or small, are going to have a dedicated team that will work with entrepreneurs and small business owners because that's an important segment of the banking industry."
Rowlands said entrepreneurs should already be in business for about two to three years before seeking a bank loan. For the application process, they should be prepared to provide personal and business tax returns, as well as a detailed business plan. And they should be regularly checking their credit score, given its importance in securing low-interest loans.
According to Webre, entrepreneurs should research the type of competition they'll face in the local business community, and account for how their business would hold up to fluctuations in sales and expenses.
"Knowledge is power, and you should plan for changes, because the best laid plans can always be derailed," Webre said. "Everything starts with an idea, and entrepreneurs are really the heart of America, so community and all-sized banks really enjoy working with the small business community to listen to their ideas, watch them grow, and help them along the way."
"There are so many resources here in the Lehigh Valley," Rowlands added. "We're so lucky to be in a place with such a vibrant entrepreneurial spirit; a place that supports entrepreneurs so well."
About Lehigh Valley LaunchBox
Lehigh Valley LaunchBox is a Penn State- and community-sponsored business accelerator program created as part of the Invent Penn State initiative. The Lehigh Valley LaunchBox program awards micro grants to budding entrepreneurs. Partners of Lehigh Valley LaunchBox link micro-grant recipients to alumni, business leaders, and academic partners to provide mentorship and to help launch ideas and turn them into useful products. All Lehigh Valley community members and Penn State faculty, staff and students who have a scalable business idea are welcome to apply for affiliation with the Lehigh Valley LaunchBox.