Graduates include Sophie Adams, Ytzelk Carbuccia, Sundeep Kaur and Victoria Stopper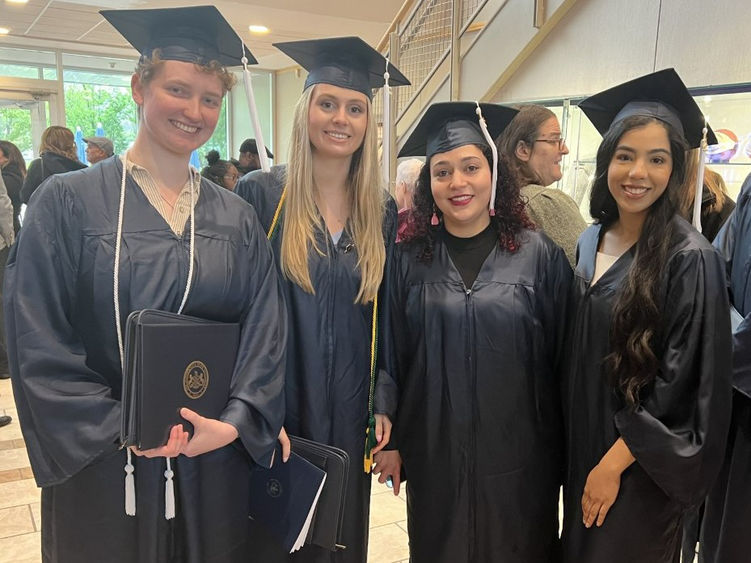 CENTER VALLEY, Pa. — Historically, the number of women going into the supply chain management field has been extremely low. According to Gartner Inc.'s 2020 Women in Supply Chain Survey, only 39% of general supply chain jobs and 17% of top supply chain positions are held by women. However, Penn State Lehigh Valley's Project and Supply Chain Management (PSCM) program is doing its part to change the conversation.
This year, four women received their bachelor's degrees in PSCM, the most ever since the program's inception. The graduates are Sophie Adams, Ytzelk Carbuccia, Sundeep Kaur and Victoria Stopper.
"They're all very engaged and very intelligent, and well-prepared to go into the workforce," said Lecturer in PSCM Mark Capofari. "In the Lehigh Valley, we have a lot of service companies — JB Hunt, Amazon, U.S. Cold Storage — and manufacturers like Crayola and Dorman, and they are actively looking for women, both interns and graduates. That's great for our program and will help us continue to grow."
Research is now beginning to show a genuine benefit to bringing more women into supply chain management, an in-demand field that's only become more so in the wake of the supply chain disruptions — and resulting product shortages and inflation — caused by the COVID-19 pandemic.
According to a recent study conducted by Siqi Ma, assistant professor in the Department of Management at the University of Akron, John Aloysius, professor and Oren Harris chair in logistics at the University of Arkansas, and Li Hao, senior economist at Amazon Web Services, women tend to be more collaborative than men when it comes to making supply chain decisions. Their study also notes that supply chain teams made up entirely of women achieve the best performance results compared to mixed-gender and all-male teams.
As a result, the researchers recommend companies make it a point to hire more women.
"I can attest to that sense of collaboration," said Capofari, who worked in supply chain roles for companies including Pfizer and Merck before going into academia. "In all organizations I was with, whether small companies or large, worldwide conglomerates, my objective was always to get as much balance and diversity from our workforce as possible. I personally saw the benefits of having that balance and diversity of thought that women bring to these roles."
"We definitely need more women in the field," said Carbuccia. "What I like about supply chain is that it's different from other business fields. I like that it requires you to think outside the box."
"I was raised by an independent, single woman and an engineer who never let gender dictate what she could do. And I always sort of followed that philosophy," Adams added.
Lehigh Valley's PSCM program, which currently has three other female students, has been progressively growing over the past few years thanks to the faculty's commitment to giving students all the tools they'll need to thrive in the field.
In addition to bringing his extensive professional experience to the classroom, Capofari strives for his courses to be filled with probing discussions geared around real-world case studies and current events in the supply chain world.
"Every class opens with what happened during the last week in supply chain. They have to read and listen to podcasts — they have to stay current," Capofari said. "The discussions we have in class, they're very open. It's challenging. You can state your opinion, however you have to give your reasons why you believe in this position. Facts are important. Everyone is courteous to one another, and you can't be shy."
That approach inspired Stopper to switch her major to PSCM after taking Capofari's Supply Chain Management 301 course.
"Just from Professor Capofari talking about his experiences in the field, and seeing all you could do career-wise, and how in-demand it is, I decided that's what I wanted to do. And I never once looked back," said Stopper, who minored in Information Technology (IT). "Because of his years in the field, he's able to give you all of these real-world examples in his instruction. It's inspiring to see all of the things he's accomplished."
Adams said the major appealed to her because it allows for career options that one can pursue "anywhere in the world." After completing her dual degrees in PSCM and business in December, she landed a position as a logistics coordinator with United States Cold Storage.
"When I took Supply Chain Management 301, it really sunk in. And when you have that conversation with Capofari, he's kind of inspiring. Because he's so passionate about supply chain, and he wants others to go into the field," Adams said. "The more I learn about supply chain, the more excited I get about it, because you can specialize in so many things."
That versatility also appealed to Carbuccia.
"When I worked as a manager at Chipotle, I was in charge of the inventory, which I was doing without realizing what I was doing was actually supply chain," she said. "Then I started taking classes here, and it all made sense."
Capofari's focus on career readiness also includes regularly bringing in PSCM alumni to talk about their professional experiences, which in turn allows students to begin forming their own professional networks.
On top of that, students pursue certifications like Enterprise Resource Planning with SAP. And there's a heavy focus on research-heavy term papers, with Reference and Instruction Librarian Elizabeth Nelson serving as an active program partner who has significantly enhanced the students' research capabilities, Capofari noted.
Of course, Capofari also is a huge believer in discipline-learning opportunities and internships. As the campus's Business internship coordinator, he's forged relationships with locally based companies like Bosch Rexroth, Olympus, Victaulic and Factory LLC.
"I fully encourage students to take an internship, because it could be the most important course they take in their college career," he said. "It's a great opportunity for them to get on-the-job training, and to demonstrate the type of leadership skills that companies are really looking for now."
Last summer, Kaur interned at Victaulic, where she worked with its product automation system. No doubt, the experience helped her recently land a position as a materials planner at Dorman Products.
"The career opportunities in supply chain are pretty much endless," Kaur said. "There will always be jobs available, especially now. And the fact that there aren't as many females in the field could actually be an advantage for us."
Meanwhile, Stopper did separate warehouse-based internships at Americold and Volvo. She did so well at the second one that Volvo recently hired her.
"Warehouses are such a good base for supply chain," she said. "The first day of my internship, I was the only female in the whole warehouse. But it didn't scare me. I've always wanted to make a real difference, and this is a field where I feel I can make one."
Capofari is extremely proud of his former students. As far as he's concerned, they're all poised for great success in the field.
"I have no doubt all of these students will make their mark in their own individual way," he said. "And they'll be in our alumni network and will help us bring more students into our program. If we're going to continue to grow the program, we have to back it up with the fact that our students are getting positions, often before they graduate. Utilizing a business mindset, I'm looking to build something here, and it is very gratifying."
Kaur is proud to join the ranks of PSCM alumni — and to blaze the trail for other women who will follow her and her cohorts.
"Going to Penn State Lehigh Valley has been like being part of a family, because of that personal connection you get here," she said. "And it's nice that we're setting an example for other students. You can do whatever you want — you just have to be the change to make it happen."