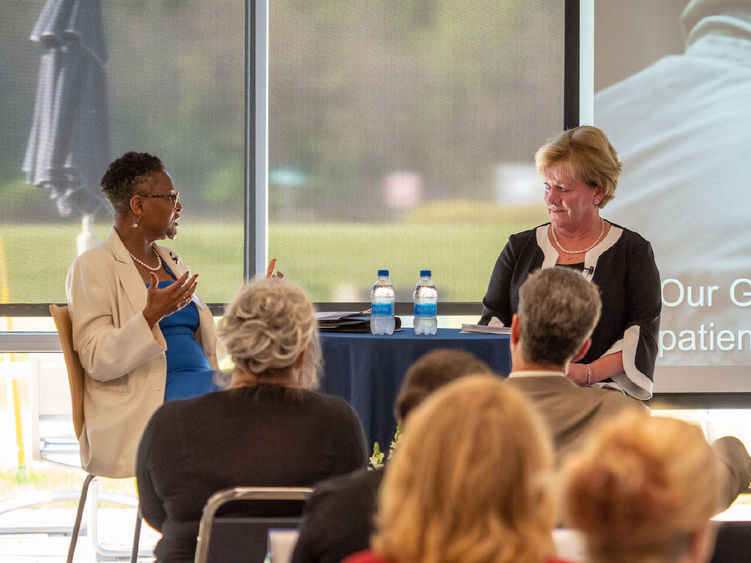 CENTER VALLEY, Pa. – Lehigh Valley LaunchBox powered by Penn State recently celebrated the achievements of an innovative local entrepreneur at its annual LaunchBox Ladies Ambassadors Circle event.
On Thursday, May 12, a large crowd of campus community members, alumni and local business leaders turned out for the program, which featured a presentation by LaunchBox Advisory Board member Kathryn C. Worrilow, founder and CEO of the health care technology company LifeAire Systems.
"It's beautiful looking out into this crowd of people who are committed not only to the community, but also the entrepreneurial success of others," said Chancellor Tina Q. Richardson in her opening remarks.
Following a networking session in Centre Hall, Worrilow told the inspiring story behind her business, then sat down for a conversation with Richardson.
A scientific director of in vitro fertilization programs for more than 20 years, Worrilow's collaboration with her colleagues led to the development and design of LifeAire Systems' patented, hospital-grade air purification system. While the proprietary system was developed specifically for the human embryo, its technology has been expanded to improve care for patients of all ages.
Through rigorous testing, the system has been confirmed to provide a significant reduction of airborne pathogens — clostridium difficile, MRSA, pneumonia, pseudomonas, influenza, etc. — that result in acquired infections in operating rooms, intensive care units, burn units, pharmacies and long-term care facilities. It's now installed in more than 80 places across the country, from local health care organizations like St. Luke's University Health Network and Phoebe Allentown Health Care Center to Stanford University and the Mayo Clinic.
"Our patients are directly responsible for the development of LifeAire Systems," Worrilow said. "And we always led with data. It's the only way we can."
Richardson said Worrilow's intellect, ingenuity and determination are emblematic of Lehigh Valley LaunchBox's mission.
"I'm so impressed by you taking your passion and turning it into something that is literally saving the world," Richardson said.
"It's such an amazing entrepreneurial journey, and I'm glad you took it," added LaunchBox Advisory Board member Catherine Bailey.
About Lehigh Valley LaunchBox
Lehigh Valley LaunchBox is a Penn State- and community-sponsored business accelerator program created as part of the Invent Penn State initiative. The Lehigh Valley LaunchBox program awards micro grants to budding entrepreneurs. Partners of Lehigh Valley LaunchBox link micro-grant recipients to alumni, business leaders, and academic partners to provide mentorship and to help launch ideas and turn them into useful products. All Lehigh Valley community members and Penn State faculty, staff and students who have a scalable business idea are welcome to apply for affiliation with the Lehigh Valley LaunchBox.